My favorite skins
Submitted by Lothere on Sat, 04/26/2008 - 16:22.
Sorry no new chapter today, it was paying-my-taxes day.
But I have something that might interest some of you, particularly Karen, since she just asked about what skins I'm using. I've started a database of my skins and eyes so that I can keep track of people's genes (and figure out which ones I'm not using so I can delete them...)
You can browse the user-unfriendliness of it all here: http://www.lothere.com/demographics/sims-cc/
I am also beginning to add info about my Sims, which you can see here: http://www.lothere.com/demographics/sim/
Eventually I will move all of my data about my Sims and genetics into there... right now it is spread out over three or four text files and spreadsheets, and I would love to have all of that consolidated and queryable (and sharable!) but it will take some time. (And I have filled out enough forms today, thank you very much!
)
To answer Karen's question in a more user friendly manner, however, I'll write a quick summary of my skin situation.
As you can see from my database, my skins are almost all from Enayla or from jwilson5. I have a few more skins that aren't in there yet, but already I've covered nearly all of them. (I haven't yet added all the eyes, though, because I have around 100-150 files, which I have to open one-by-one in SimPE to get the GUID.)
Enayla is the skin goddess... just go to her profile on mts2 and start downloading. I have -- and have used on characters -- almost every one of her skins that is not fantasy and that is a skin color within the range of what might show up in my ethnically un-diverse universe. I could try to tell you my favorites, but that would consist of "All". (OK, maybe Pixie Rust if I had to say... so sexy on those Scots.)
As for jwilson5, she made some hairy skins out of Louis's lovely #7 set, plus did the fiddly stuff like removing the navel piercing and moving the nipples around a bit to line up with Warlock's high-res meshes. She also did some skins that include textures for the "anatomically correct" Very Special Clothing for men that I may have muttered about before as having scarred my eyes with the Imin + high-definition textured skin + anatomical correctness combo.
So if you want to click on any of the links below, you must either be over 18, or don't tell 'em I sent you...
For starters, I have her skins as my default replacements, downloadable from Sexy Sims 2. I am using the Light, Mid, Tan, and Dark versions. I mention this because a lot of the Louis default sets have Louis's "dark tan" as the replacement for the default tan, and it is really darker than the game version, so the difference is quite a shock. I had this problem with my old default replacements... Gunnilda and Imin were both way-dark.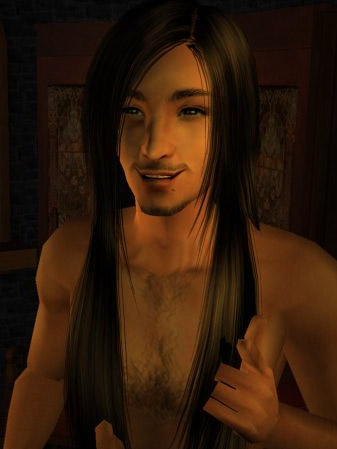 The default skins are hairless except for down there, though, so if it's a hairy guy, I use SimPE to change to one of her hairy, non-default skins. Comes in brown body hair and black body hair versions, for the various skin colors. I know it creeps some people out, but I find the shaved-body look a lot creepier. And come on look at that guy!!!
I also have a red-haired Louis skin, by someone else I think, but I haven't added that to the database yet. If you're desperate for that, let me know and I (or Verity
I hear she has a thing for hairy red-headed Sims) will look it up.
Enayla's skins are, sadly, hairless, and I would like to do something about that someday, but I only have so much time... I did miss the hair on Egelric when he was in bed with Maire, though. *sigh*
I have a very small number of skins that are not by those two creators... the main one that comes to mind is Leila's. Her skin is a little flat compared to my more "modern" skins, but without it, it would not be Leila any more, so she gets to keep it. Lissa has it too. Brede & Estrid's young son Daeglan has a different skin, too -- since it makes him look kind of dull-headed, I let him keep it when I was cleaning out my old skins.
Oh, and if there are any Sims you want me to add right off so you can inspect their skin, eyes, and genes, let me know. Otherwise they will probably get added in the order that I need them. But I have something extra to say about the Connie Sim, which I will probably do a post on tomorrow.

Who's online
There are currently 0 users and 3 guests online.