Conrad grabbed Cedric by the back of his shirt and pulled him against the wall.
"Did you hear that?" he asked.
"Hear what?"
"Alred just said that nobody who has a beard can kiss his daughter."
"So? I think it's kind of strange for an old man like Sir Egelric to be kissing little girls anyway."
"He's not too old for kissing, and more importantly, she's not just a little girl."
Cedric sniffed. "How old do you think she is? She's only twelve."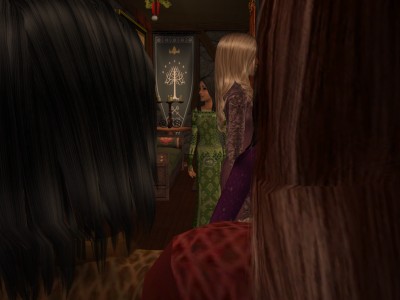 "So am I."
"Why don't you kiss her then?"
"That's just what I was thinking…" Conrad nodded.
Cedric looked around at him in alarm. "You can't kiss Lady Gwynn!" he whispered.
"Why not? I don't have a beard."
"I don't know… Because she's a Duke's daughter."
"So? Her father means to let her marry whomever she likes."
"What makes you think that?" Cedric scoffed.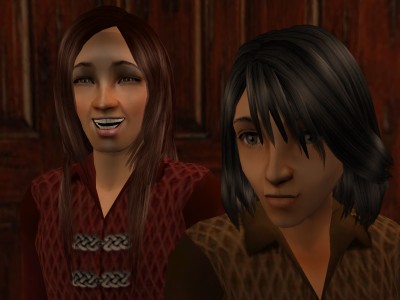 "Caedwulf told me. He was supposed to marry her, but her father said she could marry whom she liked."
"So why wouldn't she want to marry him? Then she would be queen."
"I wouldn't mind kissing a future queen…" Conrad said thoughtfully.
"You can't!"
"Why not? Jealous?"
"No!"
"Think she's ever been kissed before?"
"I doubt it, with her father…"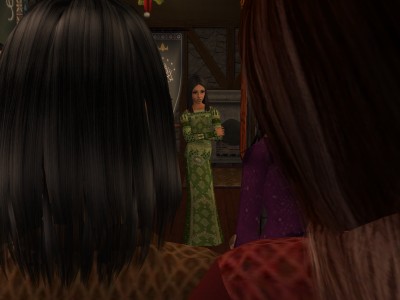 "But she's standing right under the mistletoe. She's been standing there the whole time, and she keeps looking at us. I think she wants to be kissed. Just not by Egelric."
"She probably doesn't even know," Cedric mumbled.
"She does now, if she didn't before! If she didn't want to be kissed, she wouldn't have gone to stand under it again after Egelric tried to kiss her. So I'm going to do it."
"You shall not!" Cedric gasped.
"Why not? Do you like her, or what?"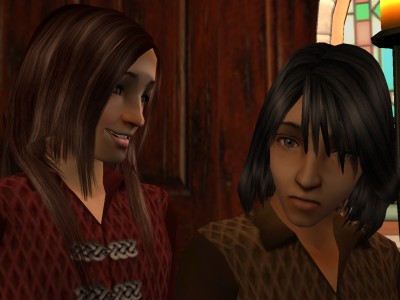 "No!"
"Look, Cedric," Conrad laughed. "One of us is going to kiss her, and it looks like it isn't going to be you. Unless?"
"No…"
Conrad patted him on the back. "You wait here."
Cedric folded his arms across his chest and locked them tight. He watched in grudging admiration as Conrad stepped out boldly across the floor. He had no great desire to kiss Lady Gwynn or any girl, but he knew he would not have the courage to try it even if he did.
Indeed, he had a particular dread of Lady Gwynn and Lady Margaret. They were the sisters of his little sister Leia, and while he and they shared not a drop of blood in common, there was still something disturbing about the idea of kissing a girl who had the same chin as one's sister.
Worse was the thought of himself, who so resembled his father, kissing Gwynn, who so resembled her mother. He could not begin to understand why his father had done what he had, and yet Cedric feared – and sometimes he even thought he felt – an unescapable attraction to some daughter of Matilda.
He feared – and sometimes he even felt – that he would turn into his father someday.
From across the room, Cedric could not hear what Conrad was saying to Gwynn, but he was pointing up at the mistletoe. Gwynn was not saying anything, but even from across the room, he could see that she looked alarmed.
Cedric knew he had been right. She had not wanted to be kissed. She had only clung close to the pillar out of shyness. He knew how it was. He also knew what an overwhelming force Conrad could be, and his own timid heart ached with compassion for hers. He could not allow Conrad to force a kiss on her.
He did not have time to think of a scheme to save her. He could only throw his own body into the breach, for it seemed to him that it would be less excruciating for her to kiss a boy who did not want to kiss her than to kiss one who so obviously, so annoyingly did.
Gwynn smiled at him when he arrived before her. Clearly he had guessed correctly.
"Didn't your mama teach you to wait your turn?" Conrad huffed.
"I don't know what to do now," Gwynn giggled breathlessly. "What do the rules say if there are three people beneath the mistletoe?"
"I believe the lady is permitted to choose," Cedric said.
"I believe the gentlemen engage in a combat to the death," Conrad said, "and the victor gets the kiss."
"Oh, I don't like that at all!" Gwynn gasped.
"Then you must choose," Conrad said.
"Oh!" Gwynn giggled herself pink, but she did not seem to know what to do, and she looked to Cedric.
He tried to shrink himself down into the least intimidating little creature possible. However, Gwynn's gaze kept on dropping, all the way to the floor, from whence came a low rumbling like distant thunder.
Cedric looked down to see the source of the sound come sneaking between his feet and the pillar. What he had heard was simply the hands and knees of baby David as he dashed towards Gwynn's skirts.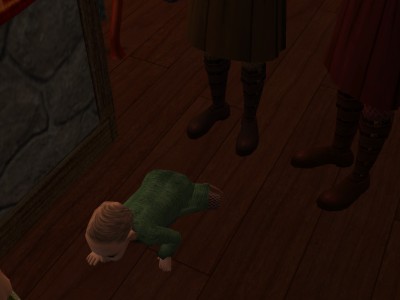 "Now there are three gentlemen from whom to choose!" Gwynn laughed triumphantly and scooped up her little brother.
"There's no contest!" Conrad groaned. "Babies always get all the kisses!"
"This one is no exception!" Gwynn kissed the laughing baby all over his face.
"You know," Conrad growled as he snagged Cedric's head in the crook of his elbow, "I think we should still fight to the death anyway."
Cedric struggled helplessly as his stepbrother grated his knuckles over his oft-​​abused skull, but he told himself he had at least accomplished his mission: Gwynn was safe in the arms of a beardless and nearly bald gentleman, and moreover he had not even had to kiss her.