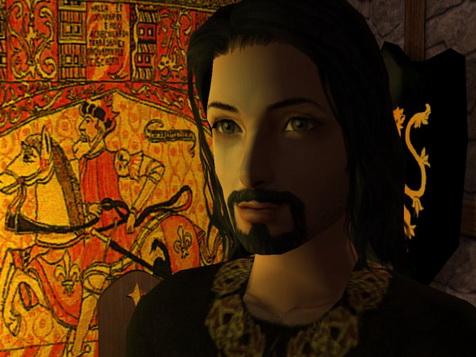 Cenwulf had been gone for months, but it was only in the last two weeks that Sigefrith had truly suffered from his absence at his morning meeting. Before they had learned of the Earl's death, Sigefrith and his men had almost seen it as a vacation from his grave mien and his unwillingness to let them stray with their jokes from the serious business of running a kingdom.
Now it was Sigefrith himself who had to fill that role if they were to get anything accomplished, and it did not suit him. They all left the meetings feeling somewhat befuddled, and he most of all.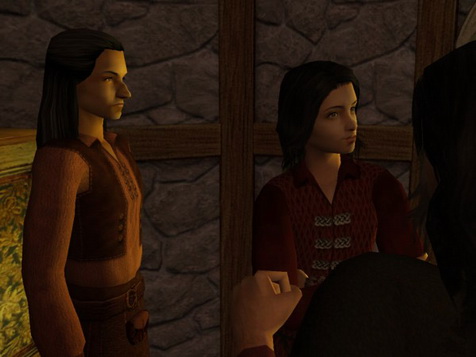 But they got the work done. This morning he had grumbled and snapped to such effect that they had finished while the sun was still slanting steeply through the window. He supposed his wife was only just finishing her leisurely breakfast.
He might have joined her, but Sigefrith was not a leisurely man. He would profit from their efficiency by riding up to the abbey to see how his latest building of stone was coming along. Britamund, of course, would be married in the small chapel to Saint Catherine, but perhaps Caedwulf would be married in the minster…
As if in prophecy, he opened the door and beheld the face of the young woman who would, God willing, be the other party to that future royal wedding.
"We seem to have a very conspicuous spy this morning, gentlemen!" he announced.
"I was not spying on Your Majesty," she sniffed.
"Were you waiting to have a word with this runt? What did you do now, boy?"
"Nothing!" Caedwulf squeaked. "I was coming to see you after dinner, Happy! I swear it!"
"That is of no concern to me at the present time," she said. "I shall worry about you after dinner. For now I am here to speak to your father."
"Oh, in that case!" he laughed. "May I go?" he asked Sigefrith.
"I certainly hope you will go as far away as possible," she answered.
"You heard her, runt," Sigefrith chuckled. "But be back for dinner!"
"At the very least by after dinner," she added. "You have given your word."
Caedwulf bowed low and then scampered off after Malcolm.
Sigefrith dismissed his steward as well and then asked Ogive, "What are you doing awake so early? Something troubling you out of your beauty sleep?"
"I always rise early," she sniffed.
Sigefrith knew it, and admired her for it, but he liked to tease her. "Well! I suppose you're pretty enough that you can afford it."
"I suppose I am not," she said with a frightful scowl, which certainly did not make her so. "But I should rather be called ugly than lazy. If indolence is the price of beauty, then I find it too dear."
"My dear, you are yourself too very dear! Will you have a seat? I promise I shall not think you lazy for taking it."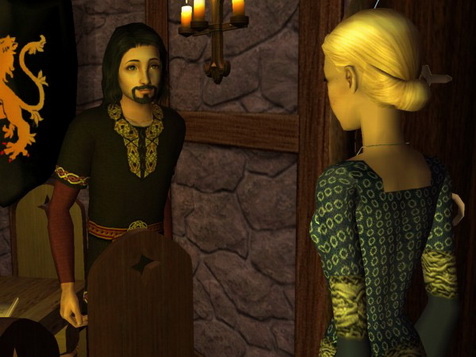 "Then I shall," she said, "as you tower over me in any case."
"I believe that is the closest thing to a compliment I have ever received from your lips."
"Saying you are tall?" she smiled in spite of herself.
"Long years of old-​ugliness have taught me to be grateful for the meager compliments I receive."
"You are not…" She considered her options briefly before saying, "Old."
"But I am ugly!" He bowed low enough to bring his eyes on level with hers, and then he winked at her.
"That is because you rise early, as I do," she laughed. "Oh, Sigefrith! Don't make me laugh. I am here to be angry."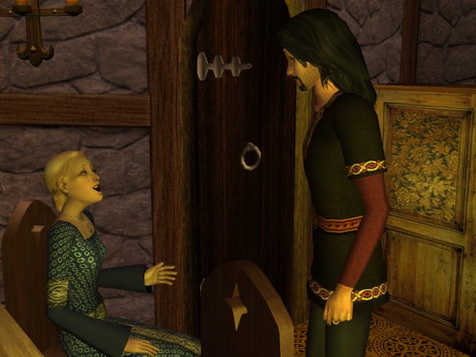 "What?" he gasped. "If you had told me that beforehand, I would have sent you off with that runt instead. He deserves it more than I do, I hope."
"I am certain he does. I am terribly sorry to direct my anger at you, Sigefrith, but I dare not face the gentleman most deserving of it, nor may I address the gentleman who should speak for him."
"I am… I dare not say intrigued. Mystified?" Sigefrith was still not worried, however.
"I shall tell you why I am angry. I am afraid there is no delicate way to say this, so I shall say it plainly. Sigefrith, your squire is soon to be a father."
"Sel—wyn?" he spluttered.
For a moment, everything seemed to melt down around him: minsters and marriages and alliances—all the foundations of his kingdom's future. Then he realized that she could not have meant herself. She was bold and outspoken, and he admired her for it, but even she could not stand up to him and tease him before admitting she had sinned against his son.
"I believe Your Majesty has none other," she said haughtily. Then her face soured. "And I think it very unfair! I was only allowed to bring one friend with me from home, and Your Majesty's squire acted to take her away from me even before we arrived in this valley. His brother is not here to deal with him, so I must come to you to demand justice for Trudi and justice for myself."
"Hmm. I see."
"So?" she cried, further outraged by his apparent lack of outrage. "What will you do?"
"Well, my dear, first I shall make you still angrier. There is no polite way to ask this, so I shall ask it plainly: is your friend Trudi certain that Selwyn is the father?"
"How—dare you?" she gasped.
"You will admit that dear Trudi is not all she could be, even if Selwyn is most certainly the father. I do not believe they are married."
"After he took advantage of her innocence!"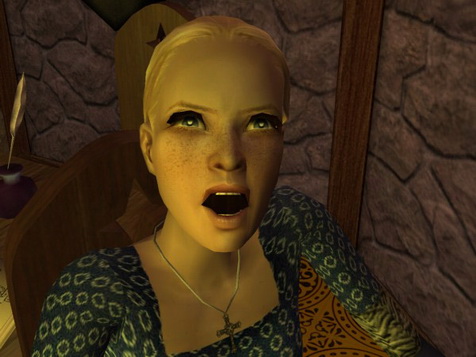 Sigefrith frowned. He was not of the opinion that Trudi had any innocence of which advantage might yet be taken, even if she had proven impervious to repeated applications of Leofric and Brede both.
Alred had spat and sworn and all but refused to accept Ogive into his household if sly-​eyed Trudi was coming with her, on account of his daughters. He had been appeased only recently by Sigefrith's idea of sending Ogive and her lady-​in-​waiting to live with Dunstan and Britamund when they were married, so that Britamund might have a companion of appropriate rank.
But his accursed squire had foiled that plan even before Sigefrith had hatched it.
"Even were he not truly the father," she said angrily, "as an honorable man he must marry her, on the chance that he is. A knight's daughter is not to be treated in such a manner at all, but if she is, a squire must be prepared to accept the consequences."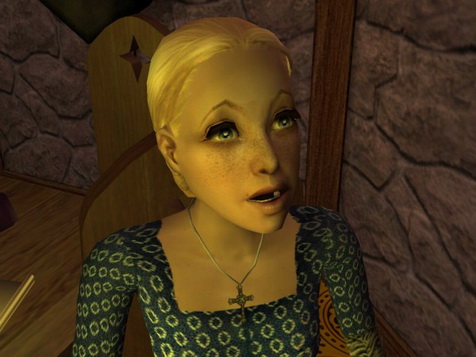 Sigefrith sighed. "You are correct, of course."
"They must be married as soon as possible."
Sigefrith waved his hand limply. "Of course…"
"And you or his brother must provide for them. I will not see my friend disgraced to a life of poverty because of the treachery of a man."
Sigefrith supposed that this was precisely what Trudi had hoped. It would at least explain Leofric's lack of success: Leofric was already married, as was Brede.
"Certainly," he said.
"And as for me, who have lost my own friend and companion…"
"You will be living with my daughter after Lady Day," Sigefrith reminded her.
"Yes, but Your Majesty will agree that a royal princess may not wait upon the mere daughter of a count."
"We shall find you another maid to wait on you."
"A maid is not the same thing as a companion. A young lady may not be intimate with her maid."
"What are you asking?" he sighed.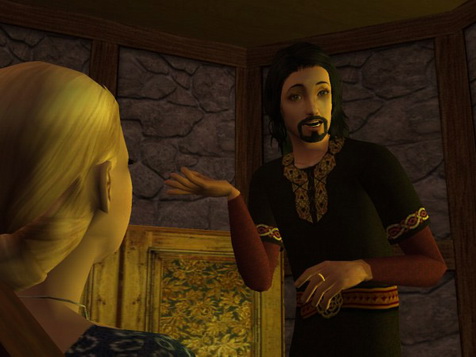 "I wish you to send them to live with us at Dunellen."
"That is not my castle, Ogive. That is Dunstan's decision to make."
"But you must make him available."
Sigefrith frowned.
"Besides…" There was a sudden tightness in her voice that did not seem to come from anger, though she scowled as much as ever. "Perhaps Caedwulf will come to visit more often if his own friend is living there."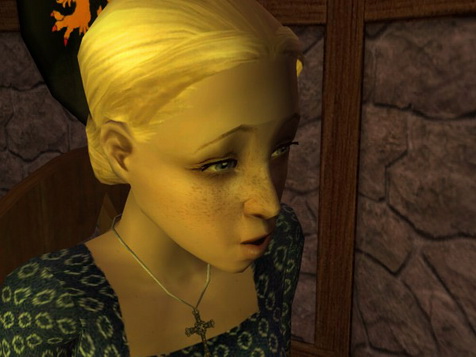 "Is he not visiting you often enough?" Sigefrith asked.
"And now I am living only ten minutes away at Nothelm."
It was not an answer to his question, and yet it was. Sigefrith would have a talk with his son. And for her sake, he would do as Ogive asked.