Emma was a princess – a royal princess – and it had not stricken her as so very odd that a mere Serene Highness would present herself at her father's court. Was he not called a king from Edinburh to Rome? If anything, she was insulted that Eadgith, Ralf, and the girls had seemed so surprised.
Nevertheless, even Emma was troubled to see a Serene Highness fall to her knees upon the entrance of the Queen.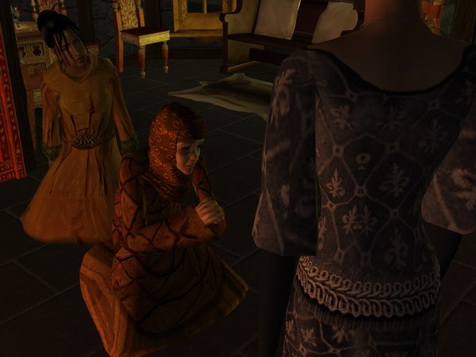 And when the Serene Highness looked up at her, Emma's breath caught in her throat. She was not easily moved, and even when she was affected she preferred to pretend indifference. However, there were such depths of sadness in the woman's dark eyes that Emma could see down into a frightening truth, and at the bottom her own reflection.
Emma was only a princess herself, and her father's kingship was a creation of his own will rather than a divine right. "Exile" was a word that inspired greater fear in her family than "fire" or "famine". What had happened to this Serene Highness could happen to her.
Eadgith bent at the waist and took the Princess's little hands into her own. "Please, you may rise."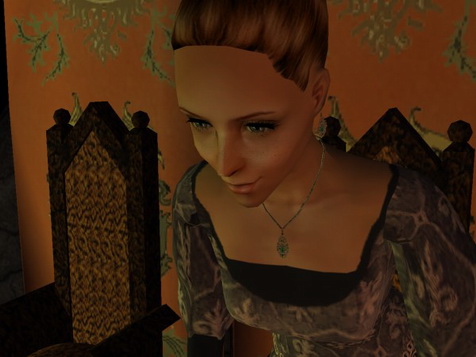 Emma felt a hand on her own wrist and turned in panic, but she was overflooded with relief as soon as she turned her gaze from the Princess's haunted face. She was safe and at home. It was only Gwynn, pulling her to the side, to sit, to be inconspicuous, and somehow, Emma thought, to be safer.
"Your Majesty!" the Princess gasped. "I seek refuge!" Then she began speaking rapidly in what Emma supposed was Greek, though her own knowledge of the language extended little farther than "Kyrie eleison."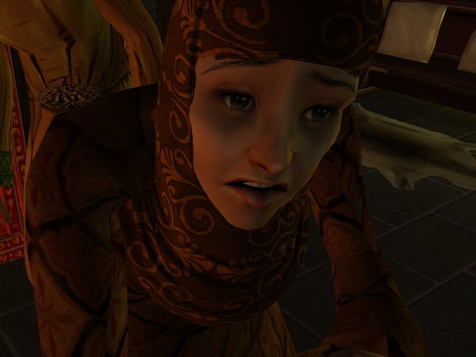 As soon as the Princess paused for breath, the dark-​​robed priest behind her spoke in a heavily accented, almost psalmodic English. "I have come as far as I can from my home. Farther still and I walk into the sea."
He paused, and the Princess began speaking again. Emma understood then that the priest was only translating for her, and she glanced up at Ralf to see how well he was following all of this. His eyes were as wide as ever.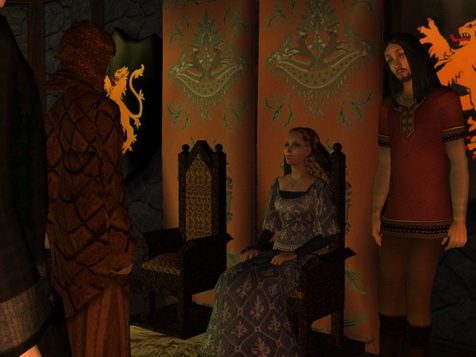 Emma felt very alone before so much exotic unhappiness. She wished her father were there, for he would know what to do. She wished Malcolm were there, for he would know what to think.
While the Princess was speaking, one of her hands went out behind her as if in search of the tall man who shadowed her, dressed strangely and more richly than the Princess herself. This, Emma realized with a start, had to be that remarkable creature called a eunuch.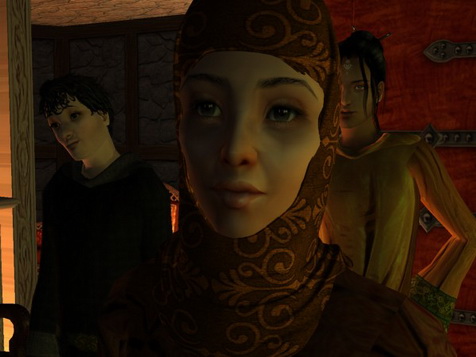 "I would even have done so long ago," the priest translated, "if I had not my friend to prevent me."
Emma had time enough only to observe the feminine curve of the servant's lips and wonder over his strange jewelry – then he looked directly at her, and his sensuous mouth curved into a knowing half-​​smile.
There was nothing complicit in that strange, dark face with its pale eyes. His smile seemed to tell her he knew exactly what she was thinking.
Emma quickly turned her face away to Margaret and Gwynn, but Margaret was boldly studying the priest's profile, and Gwynn was listening deeply, already lost in a dreamy-​​eyed rapture. Emma felt alone and frightened.
"I am told your husband is an enemy of the Normans," the priest continued. "I have no friends, so I must hope to find aid with the enemy of my enemy. I only ask the protection of your borders, and a small and quiet place to stay and pray."
At last both the priest and the Princess fell silent.
The Queen's face was radiant with compassion, but Emma could almost hear the litany of, "Oh, dear! Oh, dear!" in her stepmother's head. However, only those who knew her could have suspected it.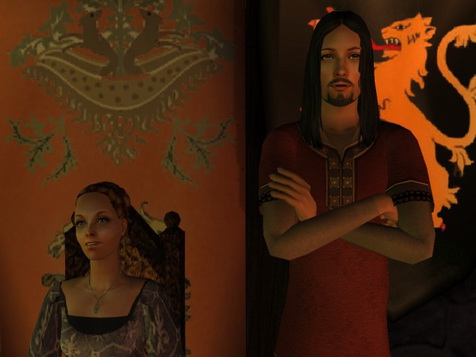 "I hope we will soon call one another friends," Eadgith said earnestly. "When my husband returns, we shall see what is to be done for the future. But in the meantime, we shall call you our guests, and we are delighted to welcome you to our kingdom."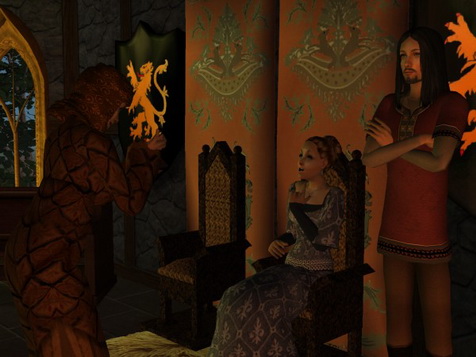 The Princess began to express what must have been her gratitude, though the priest did not immediately bother to translate.
Suddenly Gwynn was moving, too quickly for Emma to catch her wrist and stop her before it was too late – though Emma could not imagine what she had wished to prevent.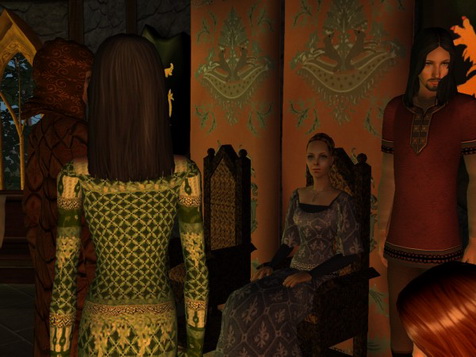 Emma sat back, but she planted her hands firmly on the arms of the chair in case she had to push herself to her feet in a hurry. She glanced at Margaret, but Margaret was eagerly watching her sister, doubtlessly waiting for her to make a romantic fool of herself.
Gwynn surprised them all by saying something in Greek that was not "Kyrie eleison."
Princess Irene replied in kind, but with such a beautiful smile that one could not imagine she had ever shed a tear.
Gwynn said something else, and then she smiled hopefully up at Ralf.
Margaret snorted. Emma supposed she thought her sister's intent had been to impress Ralf all along.
Ralf made some concluding remark that greatly amused everyone standing, caused Margaret to roll her eyes, and left Emma and Eadgith mystified.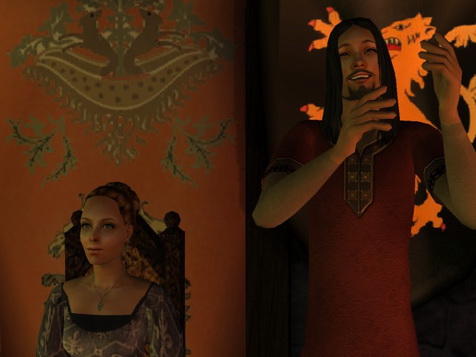 Emma tried to catch Eadgith's eye so that she would not feel so alone, but Eadgith was smiling politely up at Gwynn and the Princess.
Emma was alone. She did not even understand what made her so, but it frightened her as that first lonely glance from the Princess had frightened her.
And when she looked up, the priest was staring at her as if he knew exactly what she was thinking.