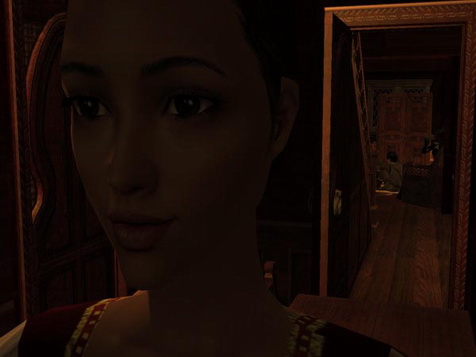 The rain must have been ice-​cold, for the panes of the window were as wet on the inside as out. Outside, however, the water slid down the glass in slick, transparent sheets. Inside it was a clinging fog, and Flann saw nothing.
She could not see the dark side yard. She could not see the rain. She could not see her candle-​lit reflection in the glass. She saw only a dim fog, but she was content to stare. A fog was all she felt: blind, blank, muffled, and cold.
Even when she wiped the glass with her palm or drew a cross in the center of one of the diamond-​shaped panes, the fog would steal over it again and it would soon be erased. Sometimes a drop of water would remain, hesitant and heavy where a vanished stroke had once ended, but after a time it would break away and slither down to the sill. Then even its own transparent trail would fade to blank.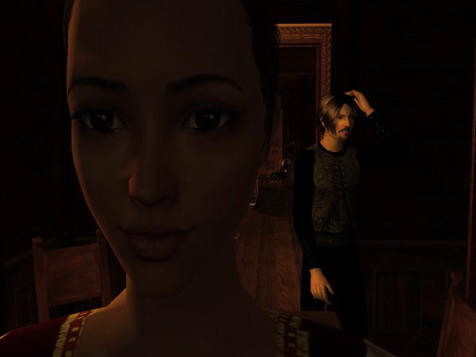 When she heard soft footsteps break away from the laughter in the front room, she knew to whose feet they belonged. She did not mind; she knew that he could not perturb her in her sorrow. As soon as he left, the fog would steal over her again.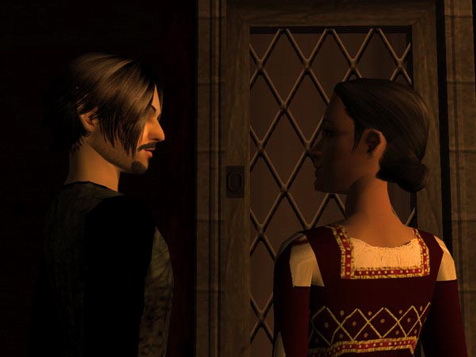 "I just notice how many people we have here in this one room," Osh said softly, almost whispering. "Ever since Cat and Paul decide to marry, more and more are coming."
"And another is on the way, grandfather," she reminded him.
His smile shone full on her for a moment: his smile that never ceased being funny beneath his funny mustache.
"But I think you find it is too many people already," he murmured. "Isn't it? So you come in here where it is quiet."
Flann looked back at the blank window and shrugged the shoulder closest to him.
"I understand sometimes too," he whispered.
He inclined his head towards hers. She did not lean away; she simply felt that they were sharing something that did not need words.
But when she did not reply, he stood straight again and said, "Perhaps you think there are too many people in this room, now, too. I go back."
"Ach, no!" She put out a hand and found his wrist. She squeezed it before letting it go. "You may stay. You're a peaceful creature, Osh. At least when you're not teasing," she smiled.
"So tonight I shan't tease. However I do not know what else to say to you, my darling. Everything else I wish to say, there are too many elf ears in the other room to hear."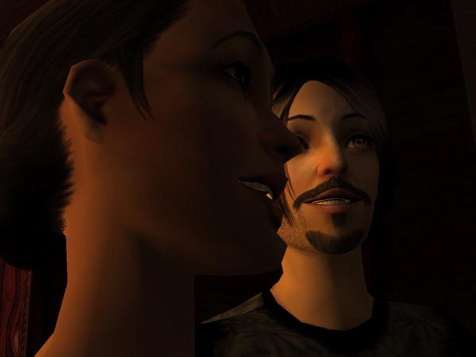 "What can I do with you?" she sighed. "You say you won't tease, and three words later, already you're teasing."
"I am not," he protested. "Tonight I do not tease: 'pon my honor, as the Old Man says."
She laughed softly and sighed again. For a while they both stared at the foggy window.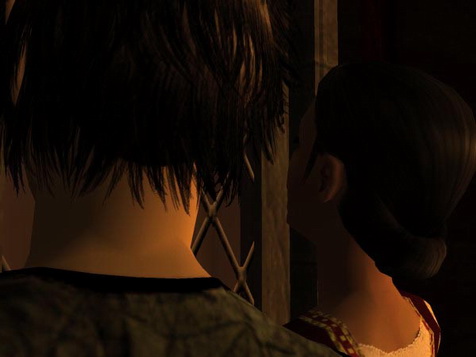 "Tonight is not a very interesting landscape," he murmured. "Easy to paint, however," he confided.
She giggled. "I believe you did paint it, on the wall at the foot of my bed."
"So I did!" he gasped. "When I finish downstairs, then you shall tell me what to paint there. I paint anything you want. What you most want, so when you wake, you will think you are still in your dreams. No?"
Flann hugged her arms to her chest and shivered. This blank fog was cold and damp.
"What do you want most to see?" he whispered. "A big castle, with towers at the corners, and rooms and rooms and rooms?"
She shook her head slowly. The idea left her feeling blank.
"Hummm… no," he said. "You, I am thinking a lake, with hills, and a little, lonely house. Not so many rooms. And only you and baby."
Flann chewed on her bottom lip thoughtfully. The "lonely" seemed right.
From the front room she could hear gusts and gales of laughter. Paul and Lasrua were loudly teasing Finn, to the delight of the assembled audience as well as Finn himself. Even baby Benedict was laughing to hear so much laughter.
But here, for a long while, there was only the hissing of the rain outside. She leaned her face so close to the window that her forehead began to ache with the chill. She closed her eyes and listened intently, trying to make out a whispering in the rush of water.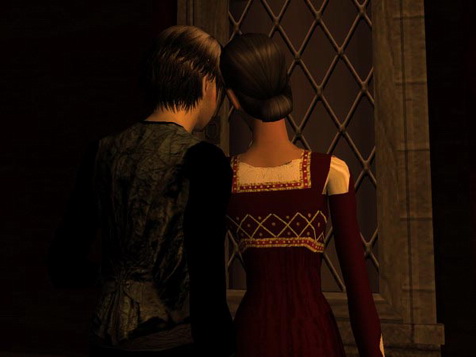 She was startled when a warm whisper came at her ear instead. "It is very difficult to paint rain. I hope you let the sun shine sometimes in your dream."
She looked up at him. His eyes were dim in the candlelight, but nothing could dull their cloudless blue.
"Is this what you dream?" he whispered.
She shook her head dazedly. She had never thought of such a house before. She no longer dreamt of anything for herself.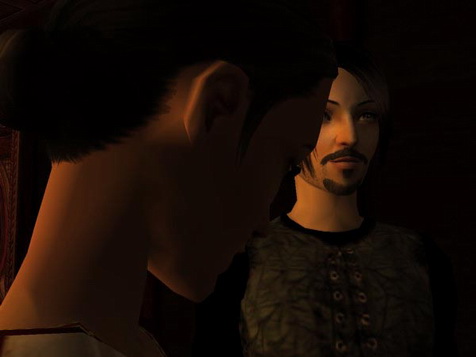 "Ah, but you cannot tell me what you dream," he sighed. "Too many elf ears will hear. You see, it is why sometimes I think there are too many people here. I can only say nonsense to you. And tonight I swore not to tease."
She lifted her hand and stroked a fingertip across one of the foggy panes.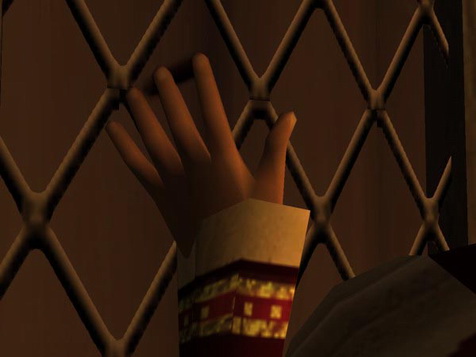 "If I knew how to read and write," she giggled, "we could write secret messages tonight. No one would hear."
"I can teach you!" he whispered eagerly.
"Ach, Osh! I'm not as clever as that."
"I think you are clever enough. Tonight we do the quick lesson. I show you how to write the secret message I want to tell. And you shall guess what it means."
"Osh!" she groaned as he took her hand in his. "It doesn't work that way. Letters are…"
He touched the tip of her finger to the glass.
"Letters don't mean anything one can guess…" she mumbled as he began to draw.
He did not draw a letter. He sketched only two curved strokes coming together in a point at the bottom. When he had finished he did not drop her hand, but held her finger there against the cold pane. He had drawn a heart.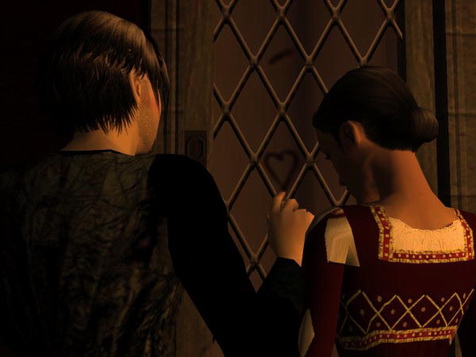 She felt a drop of fog-​water welling up beneath her fingertip, swelling until it grew too heavy and slid down from the point like chill blood. Then he let go.
Flann did not even look at the window. Her finger fascinated her. She could not believe any part of her body could have done such a thing. She could not believe it was not crimson with heart's blood.
He waited in a silence that must have ached, but she was too distracted to notice so much as his presence.
At last he whispered, "I leave you to guess. Good night, Flann."
He slipped behind her and moved for the door, darkening her body with his shadow as he passed between her and the candles.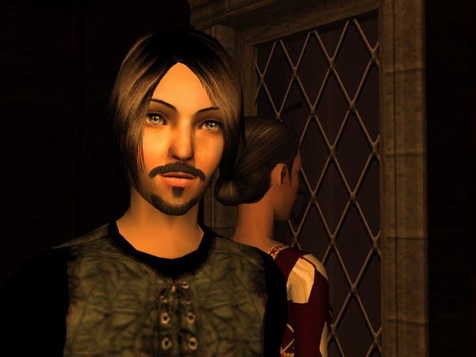 For an instant she hesitated: she did not want to stain his shirt, so stubbornly did she believe that her hands were bloody. But she caught his wrist before it was too late. She squeezed.
He returned like a spring recoiling, and when he stood where he had been standing an instant before, she threw her arms around his shoulders and held him there.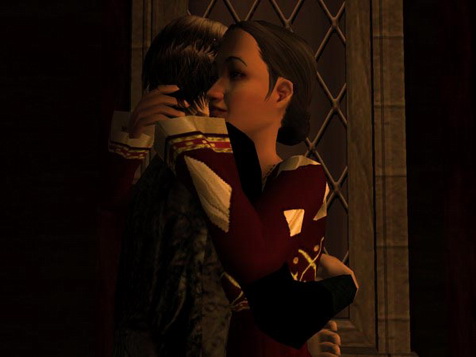 He slipped an arm up between them and lifted a finger, though their faces were so close together that she could not decide whether he held it to her lips or his own.
Then he delicately lifted her arms from his shoulders. Before she had the time to fear she had misunderstood his intentions, he settled one around his waist, scarcely touching him, and drew the other out to their sides, scarcely holding it. Her airy hand seemed to float inside of his.
All his body was near to hers, close enough for her to feel his warmth after her chill watch before the window. He scarcely touched her at all, and yet it seemed that the air between them was not separating them but holding them together.
He bent his head and moved his lips silently over her face, but it was his breath that kissed her, and her breath that he breathed.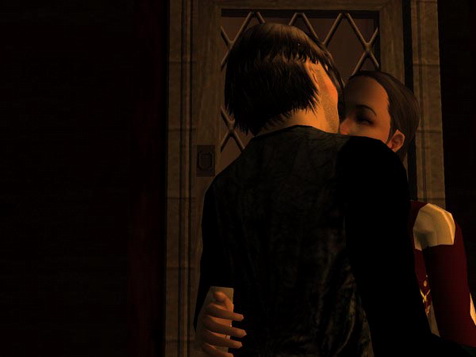 The mingled air he breathed back into her scattered the fog. She opened her mouth to him, and she felt herself coming back to life like an ember. He blew her hotter and hotter until she began to fear.
He turned his face away just as she thought she must whimper, and then he was merely breathing across her cheek and she across his.
He held her almost without touching her until her breath and her heart had slowed.
"I say good night to you now," he whispered.
She nodded, and he stepped away from her. She opened her eyes.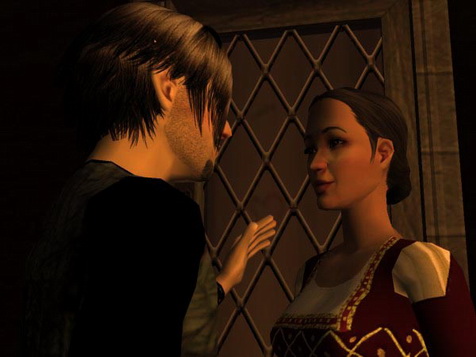 She was stunned to find that the sun was not shining, that the day was not warm, that they were not alone. In the time it took for her to come to terms with the night, the cold rain, and the laughter, he had slipped away and gone to the stairs.
The heart they had drawn was already nearly obscured by fog, but its shape was still made plain by the sparkling droplets that gemmed the edges of the strokes.
She erased it all with one swipe of her palm and fell into a chair beneath the candles. She felt hollow and windswept, but the wind had passed.
She had been wrong: he had been able to perturb her in her sorrow. But the fog was already stealing over her again.