That young Sebastien was coming up the path from Paul's front door.
Egelric was generally more amused than offended by Sebastien's arrogance and impudence – Egelric had a tough hide and had, moreover, been twenty once. But today his impressions were darkly clouded by the fact that this silk-​​clad cockerel was apparently one more of the many people who were admitted access where Egelric was barred. Egelric was beginning to believe he would be the last man in Lothere to spend an afternoon with his son.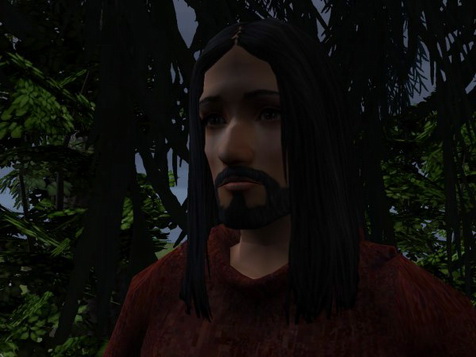 "Afternoon, young man," he called.
Sebastien responded with a grimace that would have been a mere wrinkling of the nose on a man with a nose of normal size. Not one of the guests of that fateful dinner escaped this glare.
He answered with a chilly politeness, however, as he always did: "Good afternoon, sir."
Then, as it nearly always did, his voice rose in pitch like a peevish child's.
"I hope you do not think to visit your son today. That old elf is guarding the door."
"The devil he is! Does he never leave?"
"I think not," Sebastien muttered. "If he does, he takes Flann with him."
"Ach! Is it my cousin Flann you're coming to see?" Egelric smiled.
"So I try."
"You, ah… you do know about her wee baby, don't you?"
"Of course!" he said grandly. "I love the babies. Already I saw her once. And, I have many thing in common with this baby. Gray eyes… black hairs… and my mother was not married to my father either!" he beamed, as if it was his pride.
"I heard something like that." Egelric nodded gravely. "I shan't hold it against you if you don't hold it against my cousin."
"Very good," Sebastien agreed.
"But you mustn't think that my cousin is bound to fall in love with you merely because you're in no position to criticize her. She's a proud girl, is Girl-​​Flann."
"I know that! But it is quite unfair," he whined. "I do not think these elves and people in this house have even told her I come."
"I can only sympathize with you, young man," Egelric sighed. "For all I know, my son isn't told I come, either."
"So, if I see your son, I shall tell him you do. And if you see your cousin, you will say the same?" he asked hopefully.
"Now, that's a very good idea. But I have a better one. Come with me."
Egelric grabbed him by the elbow, spun him around, and marched him back up the path. Sebastien was apparently hopeful enough that he did not even protest against this outrage, which only amused Egelric all the more.
Osh seemed at a loss to find an excuse that would serve for the both of them. Finally he addressed himself to Egelric alone.
"Won't you speak to Alred?" he pleaded. "We decide to wait until Vin decides for himself…"
"Ah, but you seem to be mistaken," Egelric began.
He was interrupted, however, by Cat's voice calling out from the depths of the house: "Who is it, Osh?"
That was a better opening than Egelric himself had hoped. "An old devil and a young bastard!" he shouted.
Egelric had kicked enough cats in his life to recognize the look of wounded dignity on Sebastien's face, but the young man had at least enough sense to keep his mouth shut, for Cat was coming.
"Cousin Egelric!" she laughed. "I shan't guess who is the young what-​​you-​​know… Ach! Bastien…"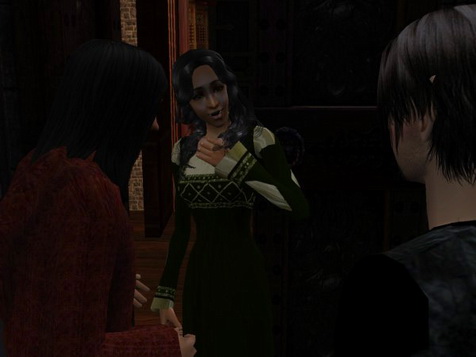 "Good afternoon, Catan," Sebastien bowed.
"And how are you, girlie?" Egelric interrupted loudly. "Fit as a flea, if you ask me."
"Ach! My leaping days are numbered," Cat laughed and patted her belly, though it did not yet hint of kittens. "And speaking of fleas," she scolded Sebastien, "I heard what you called that poor beautiful baby of my sister's. Fie for shame!"
Sebastien smiled foolishly. "She told you?"
Cat turned back to Egelric. "And as for you…" Her voice turned abruptly wistful. "He wasn't expecting you…"
"Ach, there seems to be some misunderstanding today," Egelric said. "I'm here to see my beloved cousin Flann. It's this gentleman to the right of me who is here to see Finn."
"Is that so?" Cat laughed.
Osh's eyes went wide. He had not – as Egelric had expected – prepared any excuses at all for such an occasion.
"Well, that all seems very well and proper," Cat said before he could protest. "Osh, please go find Finn, and I shall fetch my sister. Did you want to see baby, too?" she asked Egelric.
"I love the babies!" Egelric cried, in both gesture and accent imitating Sebastien in one of his brief fits of undignified exuberance.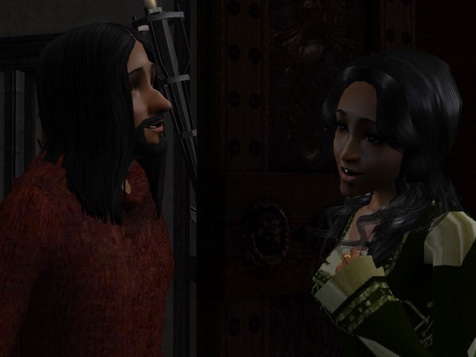 Sebastien's face was turning purple in the shadows, but it seemed he was not young fool enough to spoil his chance to see Flann merely to spite Egelric.
Nevertheless, Egelric had kicked enough cats to recognize the glare he received as they went into the house. Sebastien appeared to be a feline of the sort who repaid such indignities by sneaking back later and pissing in a man's bed.