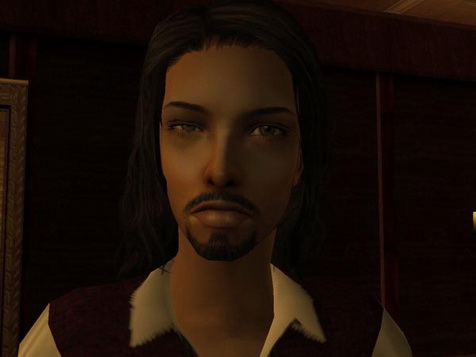 Leofric had not expected to be away long enough to miss his wife—on the contrary, the trip was something of a vacation—but he was sorry now the baby had kept her at home. Eadgith would have known how to talk to the girl: no nonsense, no squealing and swooning, just the bare facts. Leofric had to know.
He looked blearily around him as he came into the front hall. There was Edris, but he doubted Edris's motherly good-​nature was enough to carry her over the wall her old-​maiden prudishness put up around the subject of sex.
There was the newly-​married Princess, and she had the advantage of being close to Kraaia in age, but he was not certain having grown up with Eadie as a stepmother prepared her to speak of such matters, either.
He was nevertheless thinking that Eadie herself was his best hope when the third lady in the room turned to him.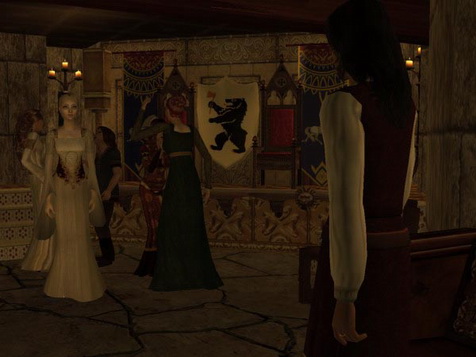 If the sky had been merely cloudy instead of roofed over, he was certain the moon would have been obliged to peek through at just that moment to illuminate her body. And did nightingales sing in this season?
He had not recognized her from behind, with her hair up. She had announced at supper that she was nearly twenty-​five years old, married, and expecting her third child; it was therefore past time for her to begin looking like a matron.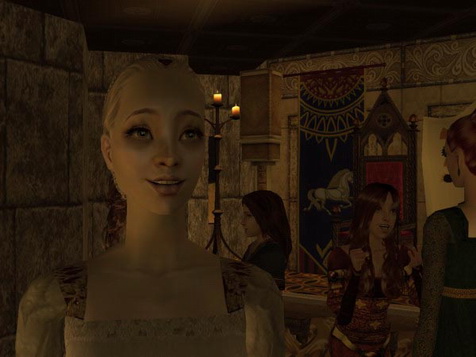 Hetty! That exquisite, shyly passionate creature a matron, like any Eadgith or Edris!
This was precisely the lady he needed to speak to Kraaia: Hetty, sweetly innocent and sensually wise. If he had not thought of her before, it was simply because he had acquired the habit of deliberately thinking about anything else but her.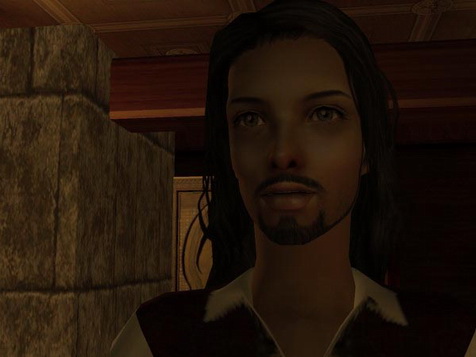 "Hetty, I should like a word with you," he said, his voice still hoarse and low from snarling at Andronikos.
He did not add "if you please", and he immediately turned away from her and strode into a corner of the room. He would see whether she would respond to such a summary request coming from his mouth.
"What is it, Leofric?" she asked hesitantly as she tiptoed up behind him.
He had the idea she found his size intimidating, and he lifted his head and threw back his shoulders to be certain she would have the full effect of it. He did not turn to her; if she wanted to speak to him face-​to-​face she would have to slip herself between his body and the wall.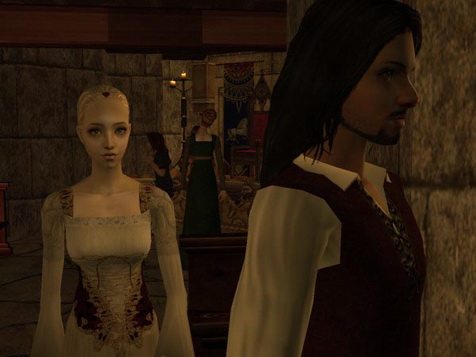 "I must ask you a favor," he said. "For me," he added. If she did it, she would have to do it for him.
She stepped around him as he spoke and put herself into the niche where the torchère stood. It allowed her to leave a greater distance between her body and his, but now she was hidden from everyone else in the room. It also meant that he could block the opening with the breadth of his shoulders, which he promptly did.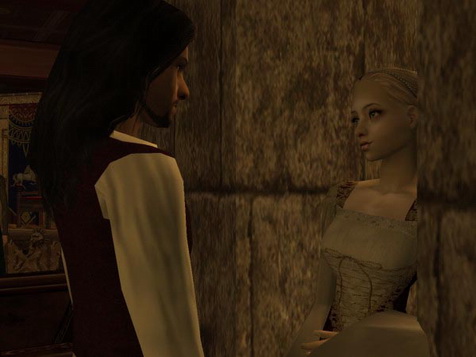 "I shall gladly help you any way I can," she murmured.
Help him! Ah, she might have said she would have done anything for him. He was certain she would.
"Ach, is that blood on your tunic?" she whispered.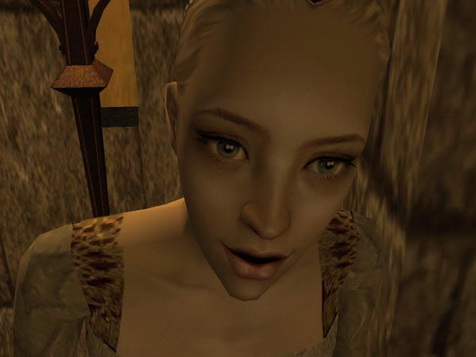 Her white hand came up and pawed at the air, almost touching his belly but not quite daring. What did she suppose would happen if she touched him?
"Oh, no, it is wine," she said in relief.
"Blood," he said curtly.
He would not have her think he was such a sot as to spill wine down the front of himself. However, he did not mind if she thought he was such a brute as to absent himself briefly from a party and return with blood on his tunic. He even stood in silence for a moment to give her time to imagine several possible explanations.
"Not mine," he added.
Her mouth fell open, revealing the moist inner surface of her bottom lip. He wanted to see her bite it. He wanted to see the dents her little teeth would make in it. If she would not, he would.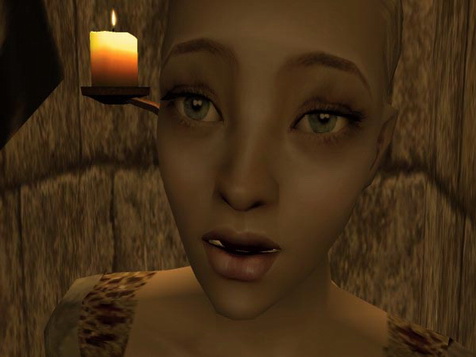 "I need you to talk to Kraaia," he said. He allowed his voice to remain hoarse and then some. This young lady would respond to a growl.
"What happened?" she whispered.
"Andronikos got her alone and attacked her."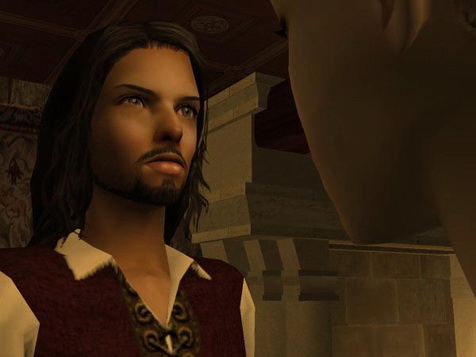 She gasped, and the hand she lifted to cover her mouth was trembling. As he had hoped, she could not meet his eyes. She was imagining the scene.
"I got there soon enough, I think—I hope—but I need to know just what he did to her. I need a woman to talk with her."
"Of course… But… is he not…"
Leofric waited. He would make her say it.
"Is he not a eunuch?" she asked in a whisper so breathless she was scarcely more than forming the words with her lips. For an instant when pronouncing "eunuch" he could have imagined she was trying to kiss him.
"He is," Leofric said grimly. "I made sure of it."
Her face was growing deliciously red. "But… I thought… they did not…"
Leofric swung his head down beside hers. He could smell the very perfume of her hair.
"Of course, my dear," he murmured, "one would expect them to have no interest in such things. But you ladies are no better equipped than eunuchs, and nevertheless you are sometimes prey to desires you cannot control. Is it not so?"
Her blush was spreading down onto her throat and breast, almost as if it was the heat of his breath on her neck that was warming her skin.
Her back and shoulders remained white, however, and he longed to touch them. His right hand was swollen and throbbing from beating the eunuch's face, and Hetty's skin was just what he needed to cool it.
She swallowed and tried to make her voice operate normally. "I… never thought of it."
He lowered his hand slowly away from her shoulders, but only to pass it close enough to the laces of her gown that his finger brushed one of the loose ends.
What were the women thinking, lacing themselves up tightly to just beneath their breasts? It was an artifice designed to drive men mad. It was nothing but an invitation to unlace them. He thought it would serve her right if he did.
But his hand was too stiff and numb to fiddle with laces. If he had her alone, he would have taken out his knife and simply sliced through them. She would have squealed, but after he had put the knife away, she would have swooned to think of how the blade had passed between her breasts, so close to injuring her.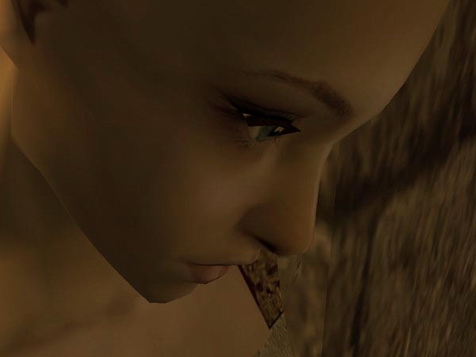 Leofric had Hetty pegged as the sort of woman who liked nothing so much as to imagine herself in peril. She would have kissed him only more deeply the more tightly he squeezed her throat. She would have screamed and tried to crawl away if he flung her down on the bed, but she would have lifted her hips to him when he leapt upon her.
Her blushes were not due to innocence, that he knew. Her innocence was only inexperience, and she blushed because she was frightened of her own desire.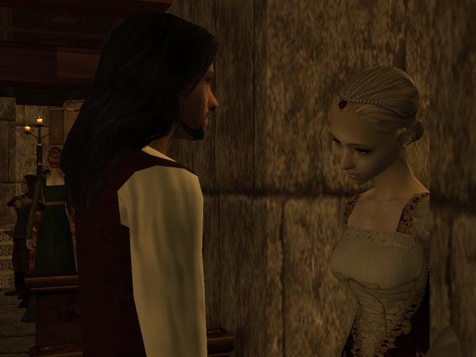 And her husband would never know how to satisfy her. Even in her imagination, no lady could believe that Alred would ever hurt her. Hetty needed that slip of doubt. Hetty needed that tendril of fear. With Leofric she would never be certain it was only a game. Leofric himself never knew.
"Where is she?" Hetty asked.
Leofric stared at her. He did not even know where he was. His body was throbbing from face to feet, and it was only the additional pain in his hand that reminded him Hetty was not the beginning and end of the universe. There was Kraaia, too—his poor fatherless chick—and someone had hurt her, and he had to find out precisely how much that someone needed to be hurt in compensation.
"I… don't know," Leofric mumbled. "I sent her for Egelric…"
"So I shall ask in there," she said. "If she is not with the others, they will have seen where she went. Perhaps to look for Cedric…"
"My poor baby…" he whimpered.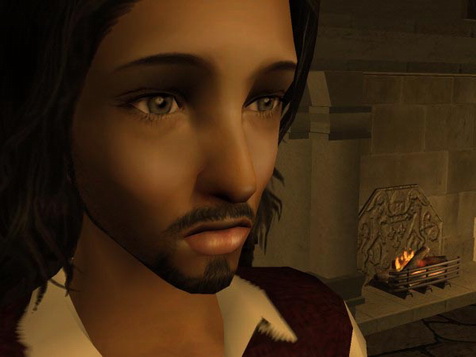 "Do not worry, Leofric." She attempted to stroke his sleeve, but she seemed startled by the thickly muscled arm beneath. "I shall talk to her. I am certain she is more frightened than anything."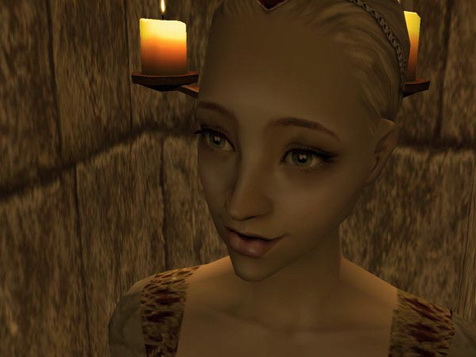 He nodded dumbly, and she slipped past him, brushing her shoulder and breast against his arm as she went by.
"Pardon me," she squeaked and trotted hurriedly off.
Leofric stared into the vacant niche for a moment before swinging himself around and lumbering over to a bench.
From head to feet he was sick and aching and reeling from drinking all that wine at supper, from beating a man he hated, and from lusting after a woman he could not have.
He was nearly fifty years old, and he was beginning to fear he no longer had the strength to rein in his own passions. He might have taken Hetty if they had been alone. He might have killed Andronikos if Egelric had not arrived when he did. He might very well have spilled wine down his tunic, sot as he was.
The worst of it was that he now knew there was no escaping himself. He had always thought that, desperate enough, he could do as Paul the Apostle had done. Now it seemed that even castration could not make a wicked man behave.