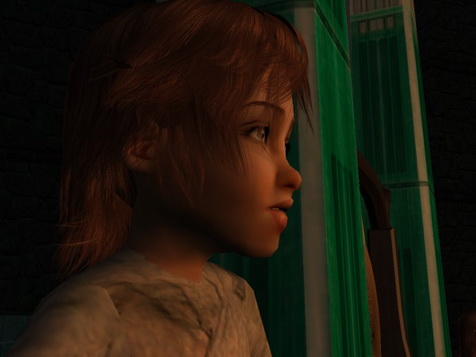 Up to the ring of Pillars and no farther. That was the rule for little boys.
Seven had not even known what a Pillar was until this night, and he had been too scared to ask when he had been told where to stand. Fortunately, the first time he had strayed too far, one of the older boys had smacked one of the tall green things when he had told him to stay back. Then he had understood. Pillars were the dead-​​tree-​​like things, with no branches and no leaves.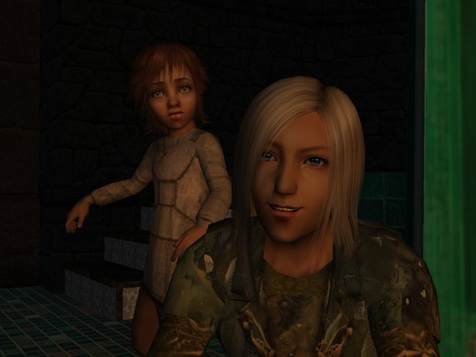 Unfortunately, the rule for big elves was to stay inside the ring of Pillars. Lar was inside, and Seven was outside. Nevertheless, this was the closest he had been to Lar since he had come to the Dark Place.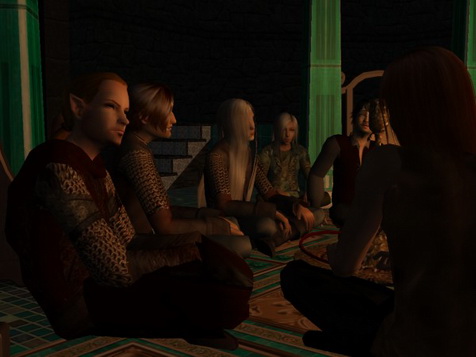 Quiet was the rule. Outside the Pillars was the rule. There were many rules in the Dark Place, but Seven was determined to follow them all. "You be quiet and stay outside the Pillars" was the longest sentence Lar had spoken to him since he had arrived.
If he misbehaved now, he was certain Lar would never speak to him again. If he was good – very quiet, very far behind the pillars, and very good – perhaps Lar might talk to him later. Perhaps Lar might pick him up and hold him. Perhaps Lar might even carry him to bed.
Elara had told him not to expect it. But she had also told him to be good. Perhaps she had meant that if he was very, very good…
Had it not been for this fond hope, Seven thought he could not have helped being very, very bad. He did not like the Dark Place so much after all, since the "sometime" Lar had promised to spend with him seemed a long time in coming, but this Sacred Place was the worst of all he had seen so far.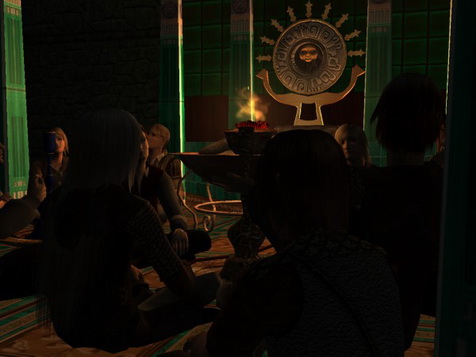 He did not know what "Sacred" meant, but he thought it must mean something like "Scary". The big, white-​​haired boy had said the Bright Lady was on the wall, but she was not like the Bright Lady Elara had pointed out to him in the sky, with her sad, pock-​​marked but shining face. This Bright Lady was spiky and sinister, and she scared Seven more than anything except wolves. Perhaps even more than wolves.
Suddenly Seven had an idea. Lar had once told him that a truly brave elf was not an elf who was not scared, but an elf who was scared and faced the thing that scared him anyway. Perhaps if Lar saw how brave he was, he would be very proud and would want to hold him and play with him for a while.
He crept around the outside of the ring of Pillars, and then – he was not certain.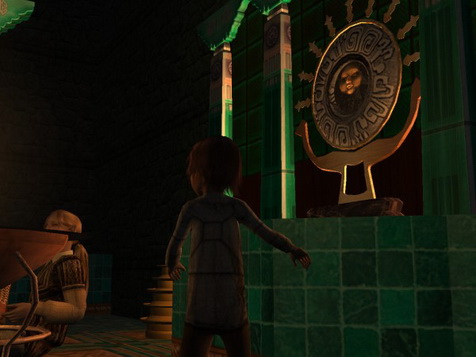 If he wanted to go any closer to the Bright Lady, he would have to step inside the ring. On the other hand, though his legs were already weak with a fear that threatened to prevent him either from running away or from going closer, he knew that if he stayed this far away, Lar would never see how brave he was. And when they were bad together, didn't Lar always say that a wise elf had to know when to break the rules?
He would show Lar how wise and brave he was. He also clenched his teeth and screwed up his face to show that Bright Lady just how mean he was. He stepped forward, into the ring.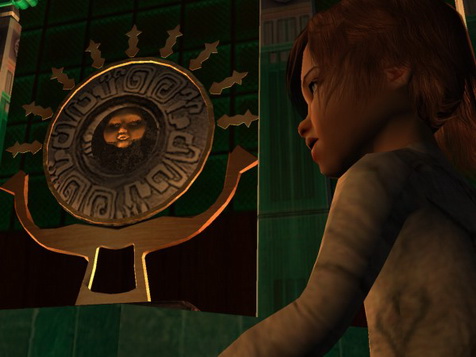 For a moment, nothing happened.
Behind him, the elves continued their rustling, their murmuring, and their long breaths as they breathed in and breathed out clouds of smoke.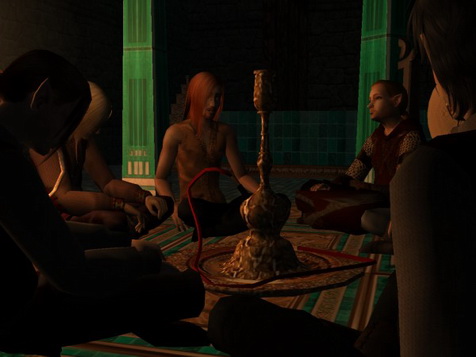 The Bright Lady was entirely unmoved. Her bloated face glared out over his head, gleaming golden in the firelight, and only half-​​revealed against a hazy mirror, like the face of a body floating just beneath the surface of a lake.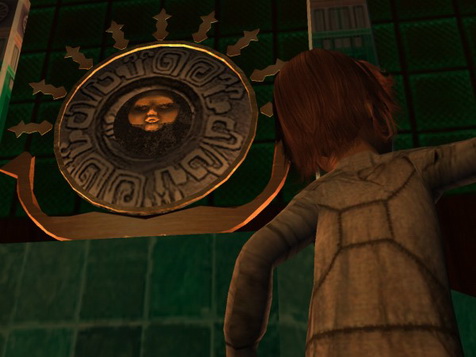 Seven thought he would never dare look into a lake or even a puddle again, for fear of seeing her there. But for now he gritted his teeth and glared as hard as she. Oh, why would Lar not hurry up and notice him and his bravery?
Then something happened.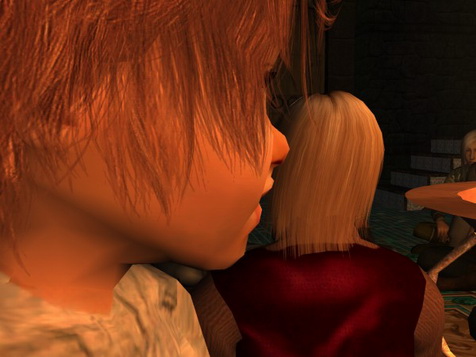 Just as Seven turned to peek at Lar, Lar tipped back his head and let out a high-​​pitched moan that was worse than the howls of wolves, because it came from Lar.
Seven was petrified. He had done something so terrible that Lar could only wail like a wolf, a single wavering cry that echoed down from the high ceiling, from a throat that was tight from being full of pain and tears, and a face that was tight from holding back the pain and the tears.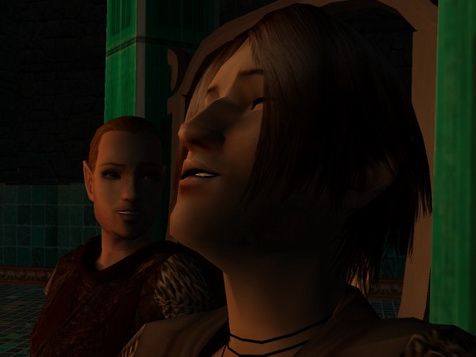 The sound went on and on, longer than a little boy could hold his breath, much less cry. At last it occurred to Seven that the entire wail was spent pronouncing the few syllables: "O my mother". The last did not end until Lar had exhausted all the breath he had.
There was a terrible silence, when Seven thought that all eyes would turn to him and his crime.
None did. All the elves were watching Lar, and when he took a deep breath and began another wail – "Your children…" – the others began to hum.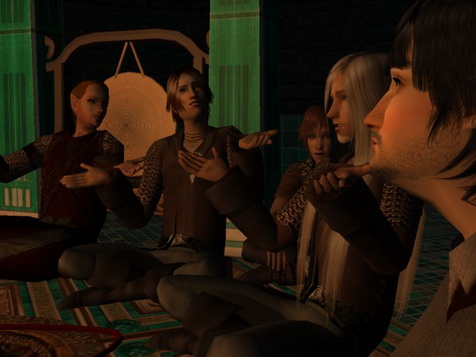 Seven only knew it because many of them lifted their hands and tipped back their heads like Lar. The sound they made seemed to come from somewhere else – from everywhere else: a deep droning like a hidden nest of bumblebees, like the rumbling of thunder when the lightning is so far off it only flickers, like a low wind blowing over the frozen lake at night – like everything that scared little boys.
Seven was not brave. Not only was he scared, he was too scared even to face his fear in spite of his fear. In spite of the quaking in his little legs, however, he ran away from the terrible Bright Lady, outside of the terrible, smoky, humming ring of Pillars, and into the shadows behind Lar's shoulder.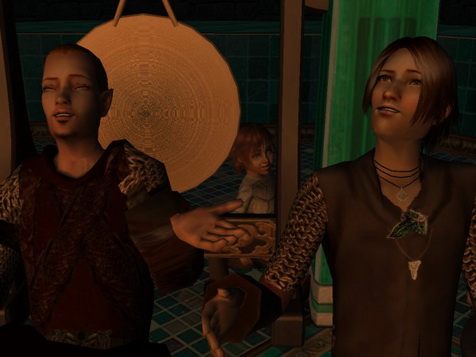 Seven was scared of shadows, too, but now he was close to Lar. If only Lar would stop that scary singing! By the time he had reached "…are weeping", some of the other elves had left off humming to sing with him, though their voices were only echoes of his terrible words, dipping and darting like sparrows in furious pursuit of the majestic hawk that soared over their nests, unperturbed in his anguish.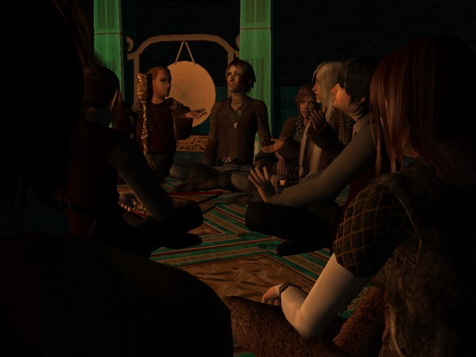 The droning hum made Seven's chest buzz, as if such a sound were trying to escape from his own body. The "weeping, weeping, weeping" of the chorus battered him from every side until he too wanted to cry. And Lar's long lament was so slow to resolve itself into words that he had sung "My brother's bones are bare to the sun" before Seven had understood "bones".
Seven was very scared of bones. He had not known that Lar had ever had a mother or a brother. He had not known that Lar's brother was made of bones. He had not known that Lar ever wept, or that he ever felt such pain as he was now expressing. It was enough to make Seven feel it too.
It was not brave. It was not quiet. It was not good. But Seven could not hold back his tears.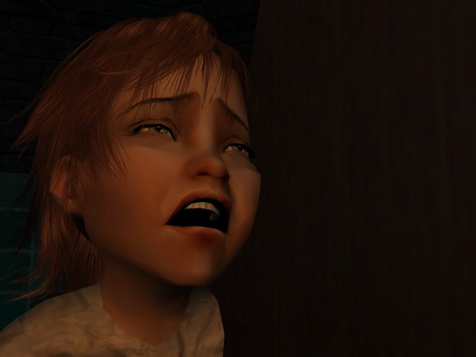 Lar fell silent, and the others elves followed him in this, too. There was a silence more terrible than the singing, broken only by the little squeaking sobs that Seven could not hold down in his throat. He hoped desperately that Lar would turn to him at last – perhaps even reach back and wipe his face – and tell him that the singing and the weeping and the pain were not real.
But Seven had broken the rule.
"Get him out of here!" Lar growled. He did not even turn his head to look.