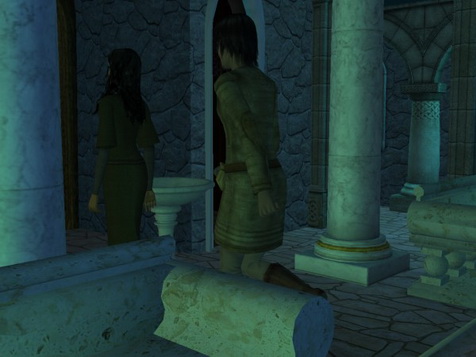 Before she had crossed half the distance to the door, Condal heard the boy pull himself up, swing himself around the arm of the bench, and stumble after her, smacking his hand against the pillar as he tried to catch his balance in mid-​​flight.
The other hand dove into hers before she could look around, and she braced herself, expecting to be dragged down with him as he fell – but no weight followed. Even the weight of the hand was not in the hand, for it floated airily up, and hers with it, as if it rested on the silky back of a bubble.
He moved around the side of her and stepped back to his arm's length. At last she saw the smile of his face, wide and bright in spite of his sad eyes, and it changed the color of everything.
He backed gracefully away from her, still holding her hand, as if he led her in one of the English dances Lili had tried to teach to her and Finn in the days before she died. Condal remembered only that she was supposed to follow.
He led her into the arched ambulatory on the south side of the church: out of the way, but not so out of sight that one could say they were hiding. She had followed him without thinking of the proprieties, but now she decided their situation was not so very objectionable. After all, it would not do to speak of handkerchiefs in the nave.
He smiled at her with such shyness that Condal began to feel a little less foolish herself, but then he bowed his head and patted his heart.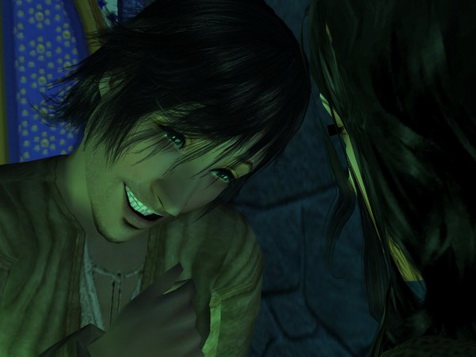 Dreamer though she was, Condal nevertheless had her doubts when she heard tales of love at first sight. She needed look no farther than her big sister, who had – so far as Condal could determine – given herself body and soul to a man she had met only a week earlier at a wedding, and he had amply proven her folly by abandoning her.
Condal did not intend to be so fooled. Nevertheless her heart ached at the death of her last week's worth of imaginings.
But the boy saw her sudden change of spirit, and he sheepishly untucked a corner of his handkerchief – from a pocket that happened to lie directly over his heart.
Condal giggled in embarrassment. Fortunately, the boy blushed, which proved he was at least a little embarrassed himself. Her heart warmed again: he was only a good Christian boy.
So reassured, Condal bowed her head and carefully whispered, "I thank you for it."
She feared she had overemphasized the troublesome 'th', but the boy did not seem to notice. He tucked the handkerchief away and bowed again.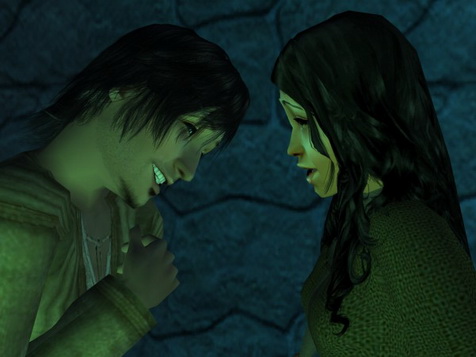 Condal waited, but he said nothing. The silence quickly grew so awkward that she felt a need to explain.
"My… father died," she whispered.
In spite of the "th", it had become the easiest phrase for her to say in English. She had repeated it so many times, in so many combinations: "before my father died", "since my father died", "when my father died". Such phrases were very nearly all she knew how to say.
The boy still smiled, but it was a sad smile, perfectly expressive – not of pity, but of compassion and understanding – perfect understanding. She thought he knew.
"Your father…" she said slowly, picking through the words she knew, "…did die, too?"
Though it never broke, his smile seemed to bow beneath the weight of sorrow piled high with pain. He shook his head, however. He did not know.
But Condal was certain there was a story equally sad behind his silence – certain enough to murmur, "I am sorry." It was another phrase she had heard and said often in the last days.
He bowed his head in acknowledgement, but he did not lower his eyes, and the gaze that passed between them seemed a reflection of mirror to mirror: the "sorry" and the sorrow shared alike. Again he patted his hidden handkerchief – or his heart.
Condal faltered, "I – believe your…" But "believe" did not sound quite right. "Think," she corrected carefully. "You have need…" Oh, but handkerchief was a long word!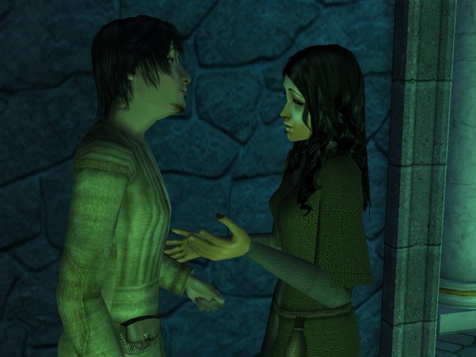 She took a deep breath as a sort of running start and began again, blurting, "I tink you have needing of your – ach!"
She clapped her hands over her cheeks in dismay. The boy's eyes slowly widened.
"Idiot girl!" she squeaked, scolding herself in Gaelic. "The first time ever you're talking to a new boy all by your own self, and it's lisping like a baby you are!"
Then, as she noticed herself knee-​​deep in the absurdity of an over-​​reaction, she dove well into it, as was the way of her self and her sisters in everything – even in their follies.
"And he'll never be speaking to you again, sure and certain, for never has a man loved a maid who says 'I tink' and 'tank you'! And he'll be telling all the boys in the valley: stay well away from that Connie-​​girl! She's speaking English like a toothless trout, and that's only the start of the resemblance!"
To her horror, the boy laughed so suddenly it could only have been at something she had said. It was not a manly laugh at all, but purling and pretty, as one might imagine the laughter of babies if one had never heard a baby's hearty laugh.
"Please tell me you're not speaking the Gaelic," she whimpered.
He nodded eagerly, and with such a kind, unmocking smile that she immediately forgot the nonsense she had just said in her excitement over new possibilities.
"Are you a Scot?" she gasped. "So am I! Who's your clan?"
He shook his head.
"Ach… an Irishman? Hmm! I shall forgive you this once…" she laughed.
But he shook his head again and waved his hand at the window, as if indicating a great distance.
"Farther than Ireland? Not Man?"
He pointed behind him, to the west, and shook his head, then waved at the window again – to the south.
"A Welshman!" she breathed.
He smiled, but he kept waving, farther, farther.
"Now then, good sir," she pretended to scold, "there are no Celts beyond Ireland and Wales but the Selkies, and I shall not be fooled!" It was only a joke, but she subtly crossed her fingers, just in case. Then she had another idea. "Ach! Brittany?"
He clapped his hands and nodded.
"My cousin Malcolm went to Brittany!" she squealed. "Are you knowing him?"
He smiled and shook his head.
Condal flushed. "Ach, but it's being a big country, is Brittany, I suppose… But why are you making me play guessing games with you?" she asked, flushing hotter with indignation. "You might try speaking proper Gaelic, good sir, even if you are from far off. It's only fair – now that you've heard my English!"
She grinned at him, but he shook his head again, sadly, and pointed to the scars on his lip.
At first she thought he only meant that something about the stiff scars prevented him from speaking clearly, though they did nothing to mar his smiles. But Condal was far-​​seeing enough to wonder at what the scars hinted and what the smiles hid, and from the depths of her vivid imagination bubbled up horrors.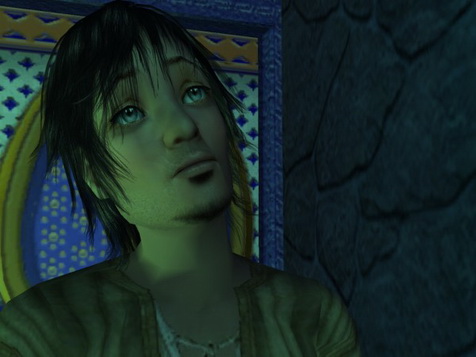 "You cannot?" she whispered.
She seemed to have lit on another tragic story. For the first time since he had run after her, he turned his eyes away not out of shyness, but out of an unwillingness to let them be read. He pointed to his chest – to his breastbone, and clearly not his heart – and then at the wall behind him, where the door to the chapel would be. Already he was beginning to sidle around her.
"You must be going?"
He nodded.
"I – am very pleased to meet you, and hope we shall meet again."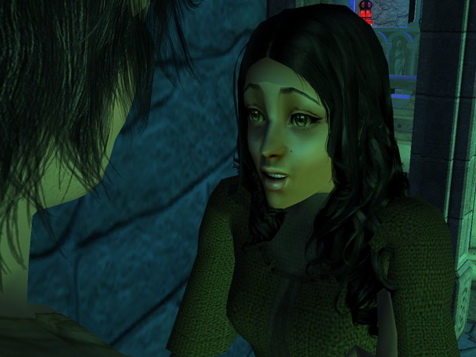 She bent her knee and tried to smile, but disappointment bit into her sensitive little heart like a blade. She knew it was absurd – perhaps even unmaidenly – to dream of a boy after only having seen him once, but in the last ten days Condal had spent many lonely hours with no one to talk to. She had spent many of those hours dabbing at her eyes with his handkerchief, and telling certain things to him.
"Condal is the name of me," she blurted as he passed between her and the window.
He paused, and Condal winced as she realized he could not even tell her his own.
"Connie to my friends," she whispered.
He hesitated a moment longer, then he licked his fingertip, and on the dry white stone of the alcove, began to write.
She watched in fascination as he slowly traced twin arches beneath the grand arch of the chapel, ghostly gray on white, wetting and rewetting his finger as he went. Then she remembered that the arches themselves had no meaning to her.
"Ach! But I can't read," she whimpered apologetically.
His arm dropped, and he glared down at his hand, as if angry at its failure to communicate when he could not.
Condal – defender of broken dolls, runt puppies, and every sort of flowering weed – longed to come to its defense. It was not the hand's fault she was stupid and unlearned.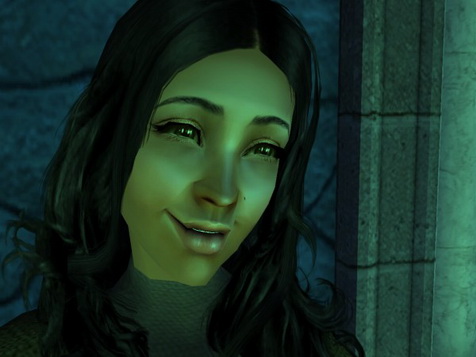 The hand was as fine and soft as a woman's or a priest's, and the fingertips that had rested in her palm were as gentle as one would imagine a baby's might be, if one's hand or hair had never been clutched in a baby's iron grip. She thought his hand communicated quite well – though she was too shy to say it for fear he would wonder what she thought his hand had said.
He frowned stubbornly and lifted it again. He traced over the arches with a dry fingertip and said in a voice that was hollow and unsure as a baby's: "Ma – "
His hand clung quivering to the wall as if nailed up by his fingertip.
"Malcolm?" she guessed softly.
He tore his hand from the wall and turned away. All she could see of his eyes from below was that they were wet.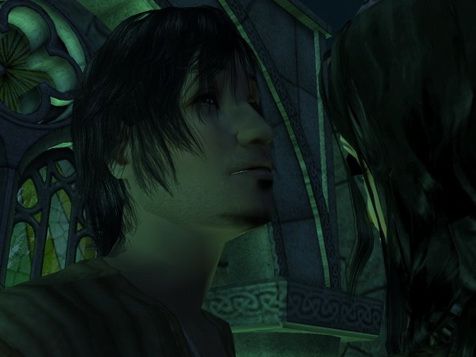 "I'm sorry," she peeped. "It's no matter." And then, in her haste to make things better, she blurted, "I shall do as my big sister did, and call you Friend!"
She did not think of how presumptuous it would sound until she heard it with her own ears.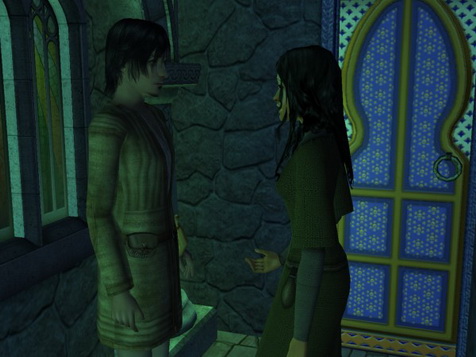 "That is – if I may…"
He looked at her – truly looked at her, with his sad eyes that were like mirrors to hers, drinking in all the features of her face as if they were water, and then rendering them up purer somehow, as if his eyes were the bath, and her face been rinsed clean.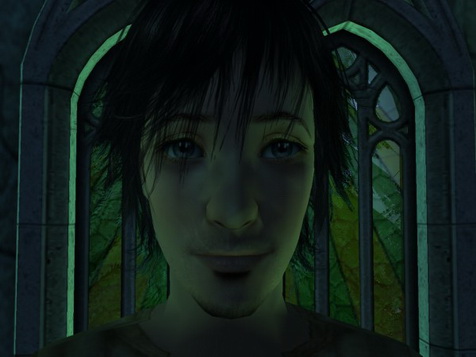 But he shook his head gravely.
Condal's sensitive little heart was sliced open. When one asked permission to call another one's friend, even an imagination like her own could not conceive that it might be refused.
Her arms up came up reflexively over her chest to protect it from further wounds, and her eyes filled with tears until they spilled over. But Condal herself could find nothing to say or do.
The boy pulled the handkerchief from his pocket again and tucked its corner gently into her hand as he passed her by. It fluttered lightly, forgotten, as she gasped through sobs. She caught her tears one by one with her tongue.