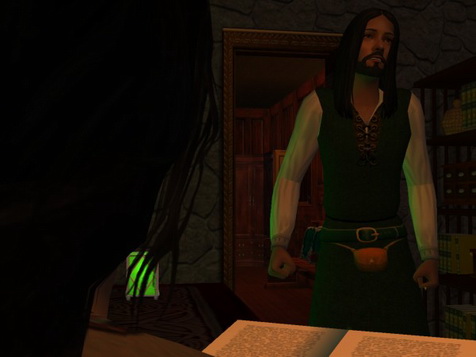 "It isn't mine!"
The door Egelric had thrown open banged against the bookshelf only after his cry, serving as vehement punctuation.
"Egelric," Alred said softly, "if you wish to bellow in my castle in the middle of the night, kindly close the door beforehand."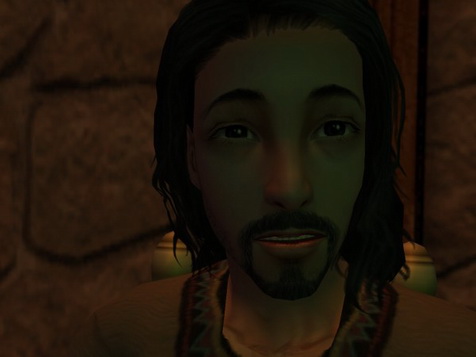 Egelric whirled around and flung his body at the door, closing it with a clang that must have rung through the walls more loudly than his roaring. He stumbled back into the room as if he had bounced off the wood.
"It isn't mine!" he shouted. He glared at the opposite door as if deciding whether to pull it open to charge through it or merely to slam it shut again.
Alred sighed and closed his book. He did not mark his place, but it was not until he saw the cover that he even remembered what he had been reading.
"Nobody said it was, old man."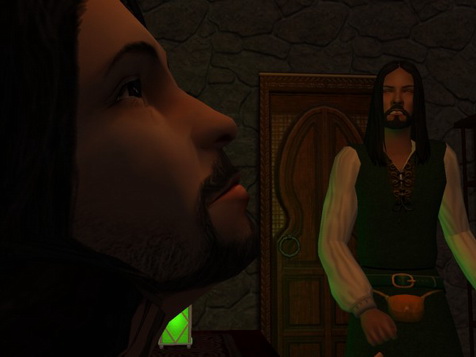 "Nobody!" Egelric snarled. Then, at last, he seemed to notice the presence of his lord. His fists relaxed into hands, his back straightened, and his deep-​​lunged panting calmed into mere breathlessness. He bowed slightly and said, "Your Grace."
Alred tossed his head at him as he rose from his chair beneath the candles. "Sir."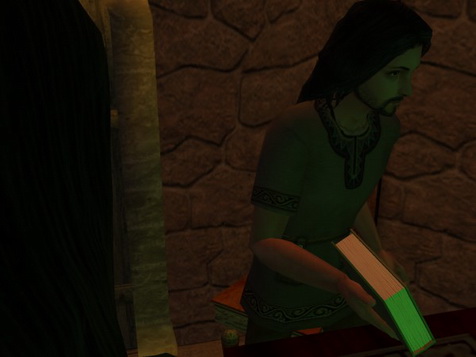 But like a surly child, Egelric had to get in a last word. "They were thinking it, as I was coming in," he muttered.
"They weren't saying it, I trust."
"Let any man try," he growled. "They'll be the last words he ever speaks!"
"Egelric, Egelric," Alred sighed. He licked his thumb and rubbed it over the dent that Egelric and many heedless children had left in the old bookshelf. "We have had enough murders in the past week to tide us over well into the new year."
"What murders?" Egelric sneered.
"There was a worker killed his foreman out at Raegiming yesterday."
Alred grabbed the edge of a shelf and pulled himself up, hanging his weight from his arm to spare the muscles of his stomach. He looked – his thumb had worn no groove in the wood as yet.
"And it appears that there was a man killed his wife a few days or a week ago," he continued, "up here in the hills behind young Sigefrith's manor, whither lately the shiftless have been shifting."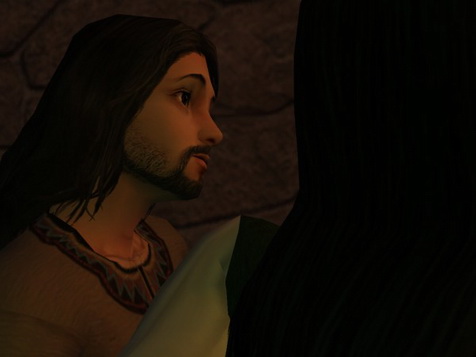 Egelric's mustache twitched beneath his ugly nose. He still stood stubbornly facing the door, balanced on the balls of his feet, his fists clenched, like a man ready to run into a room swinging.
"What is that to me?" he asked.
"More than you might think, old man," Alred said. "The latter scoundrel left a baby behind, and by 'left' I mean he left it lying in its cradle to starve to death."
Egelric's ugly mouth pursed itself into a childish pout. "It isn't mine," he repeated softly.
"Egelric!"
Alred slapped him on the back and very nearly laughed at his absurdity. Then the ugly lip quivered, and all at once Alred understood what he was saying with his stubborn refrain.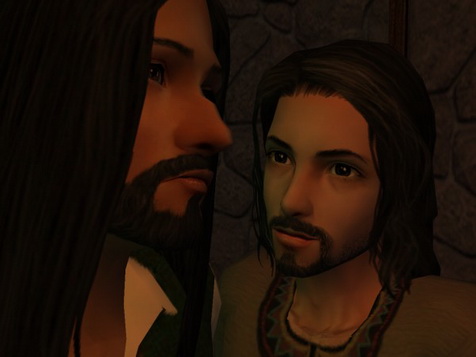 Alred laid his arm over his friend's back and gave it a slight squeeze. "Old man," he murmured, "they could show me a baby with your eyes, your nose, and your very beard, and still I would call it counterfeit. I know – and every man knows – how you loved Lili."
"You know," Egelric said hoarsely. "Not many men do."
"Aye, friend…"
Egelric sniffed, but then he looked warily down at Alred, and his eyes were dry. "What's this I'm hearing about an elf?"
"Ah, that…" Alred sighed.
Even his nimble mind was slowing of late, like a heavily-​​freighted ship whose wind was slackening in the sails.
"So, you see, the latter scoundrel's house was well back from the road, and no man could have heard the baby crying – "
Egelric took a step back, out of the reach of Alred's arm. "But an elf could," he growled.
"That's what I was about to – "
"No."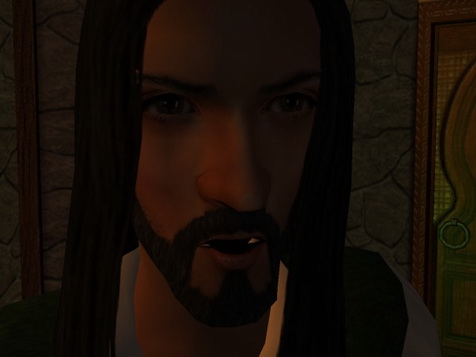 "Egelric…"
Egelric stepped back again. "I want no more to do with elves forever," he said ominously, and he clapped his big hands and flicked them at the air in a gesture so arcane and so portentous that Alred's scalp prickled.
He whispered, "Egelric…"
"You have your elf knight now – talk to him! I shall not be foster father to all the elves, and still less to human babies the elves are picking up!"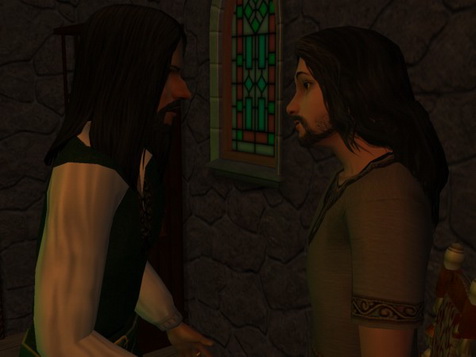 "But, Egelric – "
"May I go? I promise I shall not slam the door."
"But, Egelric, it's Sela's sister."
Egelric's eyes squeezed shut, his teeth clenched together, and all his body began to shake.
Alred thought he had to speak to stave off whatever eruption of anguish or molten rage the man was menacing, but in his haste he said a foolish thing.
"Looks just like her, old man."
Egelric's eyes opened, though his glowering brows did not lift, and against their darkness the reflected candlelight seemed a glimpse into a hellish fire. For the second time Alred felt a twitching urge to cross himself, and again he did not dare.
Egelric hissed, "Coun – ter – feit!" through his teeth like steam.
"Egelric…"
"Sela never said she had a sister," he snarled.
Alred thought it unwise to twice mention the girl's presumption in resembling Sela. "Did she ever say she didn't?" he asked weakly.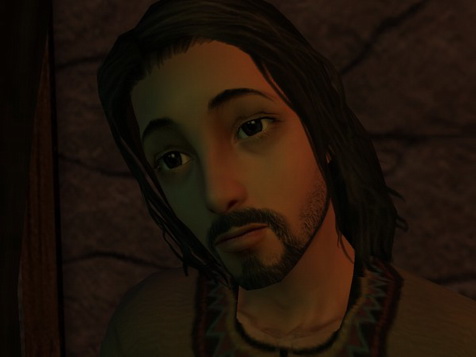 "What does she want from me?"
"Well – "
"If the baby was on young Sigefrith's land, then it's for Sigefrith to provide for it! And she – she may go begging to her own kind!"
"Egelric, listen to me!"
"You listen to me! My wife is dead one month this night! You'll not be parading the ghost of Sela before me now!" He tipped back his head and cried, "A man's heart can only be grieving one love at a time!"
Alred's breath snagged against a jagged edge of his own broken heart and stopped. He watched Egelric's face for tears, but the man stood still and dry as a stone, petrified in the shape of a sob.
"She's asking for your help," Alred said awkwardly.
"What is she needing from me that no other man can give?" Egelric croaked. Then he lifted his head and cried out again in a voice that rang like crystal: "I have nothing to give!"
Alred closed his eyes and tried to catch his breath. If he could not control even that, he could hardly hope to collect his leaking thoughts.
After a time, Egelric asked softly, "What would you do if Matilda's sister came asking for you?"
Alred gasped and squeaked. Standing beneath Egelric's monumental height, standing beside Egelric's solidity, he felt himself deflating like a man made out of overripe dough.
"Matilda didn't have a sister," he whispered pleadingly.
"As far as I knew Sela never did either. What would you do, Alred? If her sister came, looking 'just like her?'"
"Please don't ask me to answer that."
"Answer that?" Egelric laughed a short, shrill laugh. "You're asking me to do that!"
Alred could not squeeze his eyes shut tightly enough to hold back the tears, but he thought he might yet hold back a sob.
"You called me out of bed to see Sela's sister," Egelric said in wonder, and then he laughed bitterly. "You woke me from a dream of Lili! I shan't have those forever, you know! The day will come when I stop dreaming of her, as I stopped dreaming of Leda, as I stopped dreaming of Sela."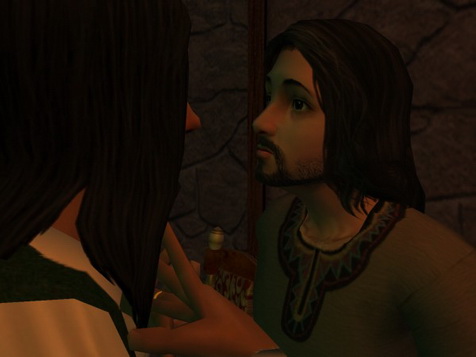 Alred shook his head slowly. "No, Egelric. Go back to bed. She'll be waiting there for you. Forever."
"Is that so?"
Egelric was calm now, and beneath his lifted brows the mere flickering of candlelight was plain. Whatever had been boiling up in him a moment before had suddenly cooled, and though it might have hardened his heart against Aia and all women forever, Alred wanted to let it stand.
He would not allow Egelric to make the mistake he had. Egelric must remain as he was now: a pillar of pure love and pure sorrow that would stand for all ages, unmuddied, undented, ungrooved, unchanging, long after the brittle shell of the man had flaked away.
"I know how you loved her," Alred said.
"Is that so?" Egelric repeated softly.
"Aye, friend," Alred whispered. He tried to pat Egelric's shoulder and ended up hanging his weight from his arm. "Go back to bed. Sleep if you can. That's all that's left us old men. Not life, not death, but dreams."