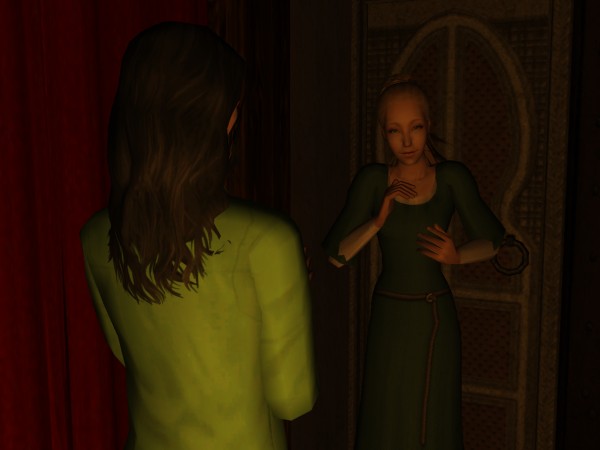 Edith let herself into the bedroom before Alred could waylay her in the corridor.
"Oh, lord!" she sighed in weary satisfaction. "I've looked high and low for you!"
"Starting with high was your first mistake," Alred said dryly. "Edith, if you would…"
He tried to wave her out the door before she said too much, but Edith was too excited to catch the hint.
"Lord, it's time!" she squeaked. "It's tonight!"
Alred began again, "Edith…" but the woman leaned forward to grin past the curtain at Margaret.
Whatever she saw there only increased the volume of her gushing, for she stood back and told him, "It's for sure this time! She already lost her waters, and—oh…" She winced, finally remembering that a child was in the room.
"Edith." Alred's voice was so cold she blanched at its frost. "I wish you would await me outside the door."
He turned on his heel to face the bed, dismissing her a second time with his back. Behind him the door clinked softly shut.
"My dear…" he murmured to Margaret. A flood of tenderness washed over him at the sight of her small face and sleep-​rumpled curls, and the maid's indiscretion was forgotten. "I'm afraid we shall have to have Papa's song another time."
He helped Margaret to lie down and pulled the blankets up snug beneath her chin. Her heavy brows quirked in confusion at first, but her face softened as he stooped to kiss her.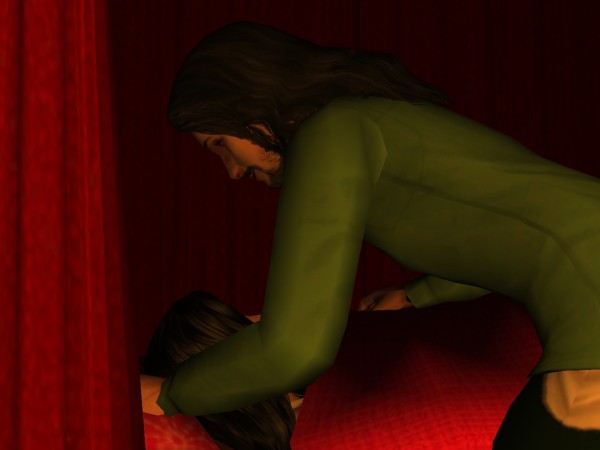 "Hetty is feeling a bit indisposed," he explained, "and I must go see that she is made comfortable."
"Perhaps you can sing my song for her instead," Margaret suggested in a sweet little voice. "I won't mind."
"That's a good idea. Perhaps I shall. Good night, my lady."
"Good night, Papa."
Alred's sudden smile—she was his little girl still!—was marred by the slash of pain that followed hard after. The world was a hideous, cruel place for little girls. And it was perilous when they became women.
He kissed Margaret again and fled before his swelling flood of tears spilled over. Stumbling into Edith in the corridor saved him from being entirely unmanned.
"Edith," he said, his mouth only inches away from her presence in the dark, "I would not have such matters discussed openly before my daughters."
"No, my lord. I don't know what came over me…"
"Follow me," he ordered.
He turned and strode down the narrow hall, pausing to throw open the door to the girls' sewing room.
"I daresay she didn't quite understand," he said to Edith as they entered.
The cramped chamber was draped, stuffed, pin-​tucked, and flounced unto the limits of taste with his daughters' needlework; and it was illuminated by the lamps they lit nightly for their girlish devotions.
Of late they had been making special prayers to Saint Margaret, patroness of pregnant women. Alred's steps slowed. The golden air was thick with something sacred he wanted to absorb.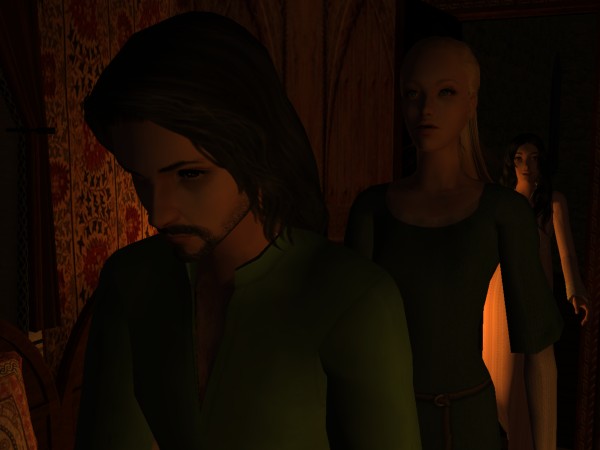 "But she might have been frightened," he grumbled. "I hope she won't lose any sleep."
Edith murmured, "I beg your lordship's pardon."
Alred opened the far door, and their pace quickened as they stepped back into the drafts and shadows of the corridor. He kept quiet until they had passed Gwynn's door and left it behind.
"How long ago did she…?" he asked, faltering over the gruesome terms. "Have the women been sent for?"
"Well, lord," Edith said, panting at his back as she tried to keep up with his rapid stride, "she's been feeling pangs since suppertime, but it wasn't long ago she lost her waters."
Since suppertime! And he hadn't gone to say goodnight, or even ask how she fared. Tonight of all nights he had failed to do his duty by her.
"All in a gush!" Edith said with lurid glee. "We sent for the women right away, for things always do get going then. I don't know if anyone is here yet. 'Cause that's when Nurse said I'd better find you for sure, lord. Look high and low and turn over every stone, I said I'd do! But even Osric didn't know where you were." Her tone of voice was edging into a scold. "He thought you'd gone to bed!"
Alred opened the door at the end of the long corridor and turned towards Hetty's apartment, not stopping to close this door behind him, any more than he had the others. If anything, his pace increased with every door.
Edith, still trotting after him, finally realized where he was going. "Lord, you're not—the baby isn't here yet, you know!" she said, scandalized.
"You have been remiss in your congratulations otherwise, my dear."
He flung open the last door.
He did not know what he had been expecting. A stifling gust of air rushed over him, scented with smoke and dried herbs. The room was dazzling with candles—bright as a hall decked for a holiday feast. And there was no screaming, no blood, no puddles of fluids that might go by the mysterious name of "waters." Hetty was not even in bed.
He did not know what the ladies had been expecting, either, but it was clearly not him.
"Girl!" Nia shouted past him at Edith. "If I told you to fall down the stairs, you'd miss every step! Tell him, I said! I never said bring him!"
"But he would come!" Edith protested.
The little nurse planted herself squarely in his path, and Alred dodged, trying to see past her to Hetty's smile.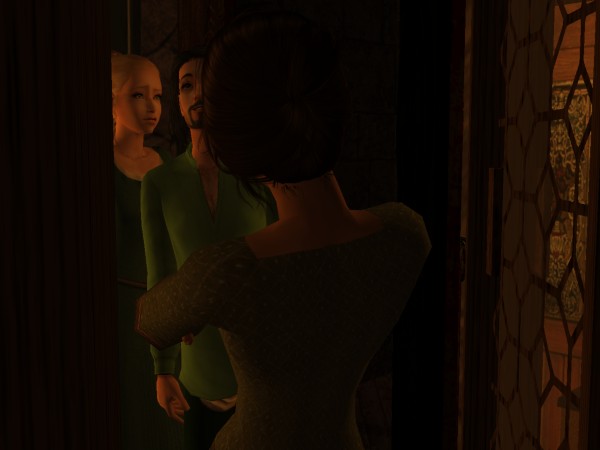 "For many are called," he cried, "but few are chosen! Alas!"
He gestured grandly with his arms, and Nia shied just enough for him to squeeze past her and saunter up to his wife.
"But, dear Hetty, before Nurse has me bound hand and foot and cast into outer darkness, may not I yet kiss you goodnight?"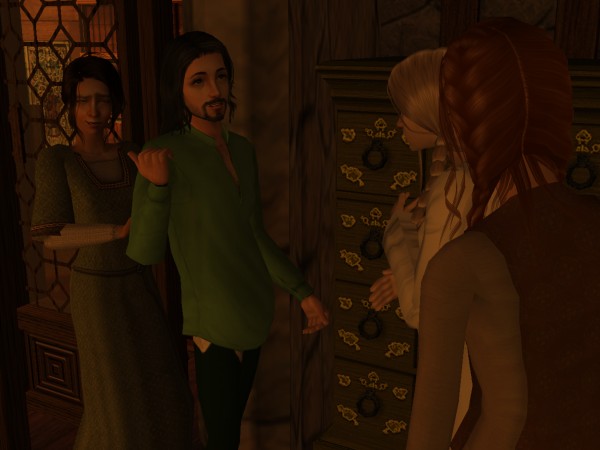 "Goodnight?" Nia demanded. "She's birthing a baby tonight, and you want to wish her sweet dreams?"
"Nurse, I'll have none of your naysayery! Hetty?"
He had joked and blustered his way this far, but the rest was up to Hetty. And Hetty's face fell.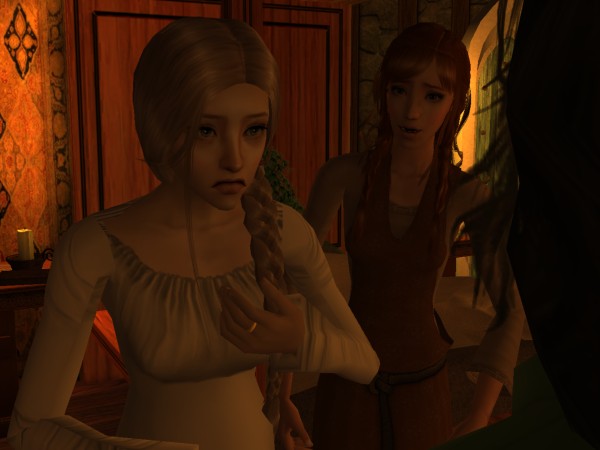 Alred felt the first creaks of a splintering smile. Fortunately Hetty's gaze was dropping: from his face, to his breast, to the floor.
Then she lurched at him. She clutched his arms in a clawed grip, butted her head against his chest, arched her back, and wailed like a cat in heat.
Petrified in everything but the mouth, Alred gasped, "Oh my God!"
Hattie absently patted Hetty's shoulder, but most of her attention was spent focusing a look of outrage at Alred's face. Nor did either of the women behind him seem in a rush to come to Hetty's aid.
"Well—do something!" he commanded. "Why are you all standing around? Why isn't your mistress in bed?"
Hetty's wail finally croaked off into silence, but she still leaned headfirst against his chest and heaved with breathless panting.
Hattie put on a superior air and said, as if making a killing argument, "Be-​cause she wished to walk about!" She added a suspiciously sarcastic, "My lord!"
"Oh, Alred!" Hetty whimpered, swaying drunkenly back onto her own feet. "I am so sorry…"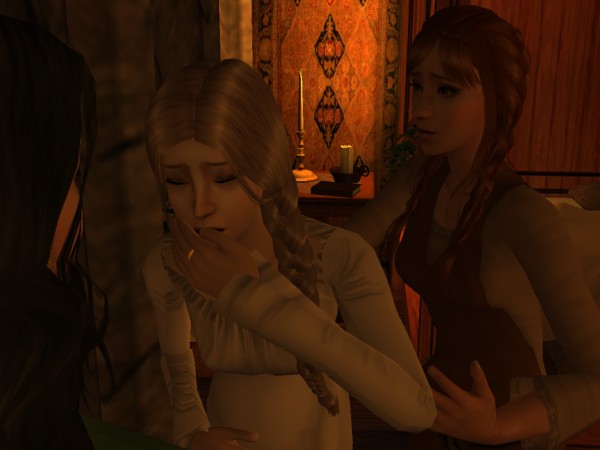 "Do not apologize to this man!" Nia commanded. "If you didn't take a bite out of his collarbone it's more than he deserved!"
Alred twisted his head around to gape at her. Was this the sweet little apple-​cheeked grandmother who nursed and doted on his youngest children?
"You were saying?" Hetty prompted weakly.
"Well!" Alred straightened his collar and brushed off his sleeves.
Hetty awaited his pronouncements with a sickly smile, but she stood so stooped-​over that her roughly-​braided rope of hair swung side-​to-​side. Her sweaty face was flushed with blotches, her cheeks puffy, her eyelids swollen. Her nightgown—baggy and matronly—was spotted with wet, pink stains on the skirt.
All at once Alred was stricken with shame. He understood now that the ban on gentlemen in birthing rooms had nothing to do with protecting nor even punishing the men. It was not merely meant to keep their useless, quivering bodies out from underfoot. No, he had forced his way into a moment of great intimacy and vulnerability—no woman would want a man to see her like this.
And yet Hetty had never appeared lovelier to him than she did at that moment—so flushed, so fragile, and so courageous—venturing so close to death in order to give life to his child. And even at her worst she was still Hetty—still the most gracious of women, thinking of nothing but the comfort of her guests, uninvited and unwanted though they were.
"My beauty…"
He lifted his hand to her cheek, but his exquisite intentions were spoiled by a squawk from the doorway: "What's this? I thought I heard a quack in here!"
Alred crammed his tenderness back down and laughed shakily. "A duck in the henhouse! I am found out!"
"I don't know what you think you're doing here," Gunnilda said, "but your part in this was finished nine months ago!"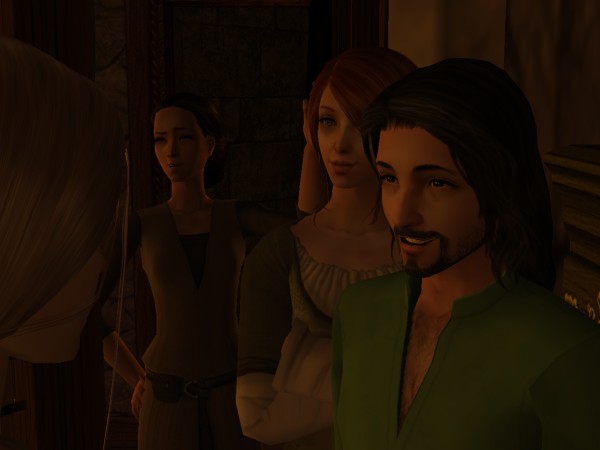 Edris strolled in and leaned against the pillar behind him. "I never knew a man to volunteer before."
"And why not? I can be all kinds of help. Hetty wants to walk about. And if there's one thing I know it's how to walk ladies about!"
He crooked his arm and held it out to Hetty. She smiled and, he fondly believed, looked pleased. But Gunnilda slipped in to grab his elbow and yank him away.
"What?" he pleaded, laughing so he would not cry from helpless frustration. His last backwards glance at Hetty was cut short when he smacked his shoulder against the door.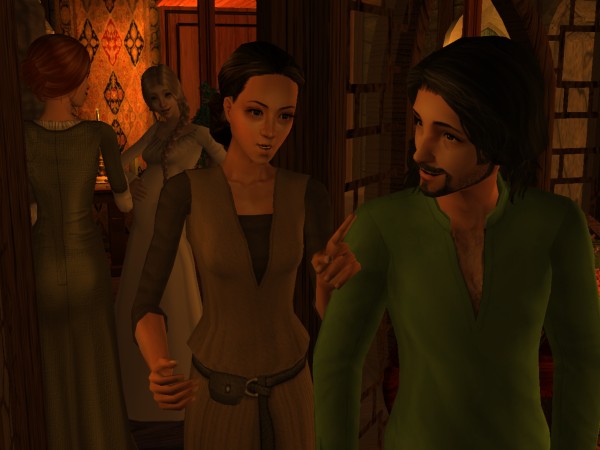 Gunnilda said, "You can waddle yourself right out of here, duck-​man, and none of your nonsense!" Once away from Hetty's side she added lower, "I'm glad to see you here, Alred, but I'll be that glad to see you go. Your wife has something else to think about just now."
She gave him a gentle but unarguable shove, like a harried housewife shooing a bothersome child out of doors.
Alred stumbled out into the drafts and shadows, grinning like a skull. He was uninvited, unwanted, and finally outcast. He had not kissed Hetty goodnight. He had not even wished it in words. If he never saw her again, his last sight of her would be a gracious smile.