Sigefrith was in fact permitted to greet the ladies, and afterwards he stalled as long as he could by taking the time to eat, shave, and check on his horse. But the King was never far behind, and so at last he was obliged to follow him out into the cloistered court to tell of their journey. He felt that he, of the six that had gone, was the least qualified to tell the tale properly, but as always the younger men had left him to deal with the more bothersome consequences of their adventures.
"Why don't you begin by telling me who or what is Whitehand?" the King said after they had sat. "It is not clear to me even whether it is a person or a place."
"It's a man," Sigefrith sighed, happy that he would, at least, not need to find the words to begin the conversation. "He is – now – King of Man and the Isles. He's… oh – his name is Godred, son of Harald the Black, and – well – " This was the difficult part. "It seems that Harald Hardrada named him sovereign of the Isles, and gave him his – "
"Hardrada?" The King's voice was calm, but the corners of his mouth were most definitely turning into a frown.
"Well, this was a long time ago…"
"At least thirteen years ago, necessarily."
"That's right! A long, long time ago. And, so, he gave him his daughter as a wife, and put him over the islands, but, you know, the Irish kept him away for a long time…"
"I do know."
"That's right! And he tried several times to take them back for the Norse, but, you know, he never succeeded."
"I know," the King said wearily.
"So, this summer he wanted to try again, and he needed ships and men, and Eirik was looking for something to do since Tryggvason was staying home this summer, and – "
"Something to do?"
"Well, it was his first summer with his own ships."
"Ah, yes. His new toys."
"That's right! And he asked Brede and me whether we should like to come along – "
"He asked Brede to come along?"
"Oh, they're great friends now. It sufficed to get them away from the girls."
"Lord preserve us from the girls!"
Sigefrith didn't know whether the last was meant to be a joke or not, and so he compromised by smiling broadly.
"What did Tryggvason say to this?" the King asked. "I understood that he liked Hardrada and his kin very little."
"But Eirik is his own man, and does as he likes."
"And you and Brede are…?"
"Well…" Sigefrith squirmed.
"So I understand that the three of you went with the son-​​in-​​law of Hardrada – "
"The six of us. I mean, the three of us, and Stein, and Eirik son of Haakon, and Tryggve, who is Haakon's sister's grandson."
"So Tryggvason apparently knew what you were about?"
"Oh, of course! He thought it a fine joke."
"On me!"
"What?"
"Go on, runt. You got on one of Eirik's ships and sailed around to the islands…"
"And we fought! And Whitehand is very clever, you know. He hid a few hundred men in the woods, and we met them on a field and surrounded them, and then the tide came up in the river so they couldn't get away, and they all surrendered, and we won!"
"Just like that!"
"And we took everything they had, and Whitehand is king now of the Isles. And he's a very nice man!"
"Sigefrith," the King sighed. "You are such a very nice man that you seem to find everyone so. You will forgive me for being skeptical."
"But I have a very nice letter for you, from him! You will see."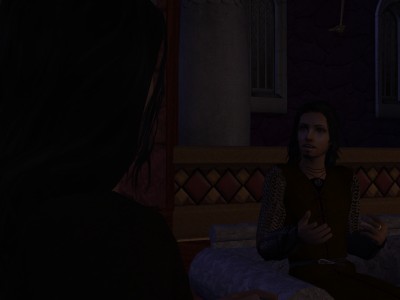 "A letter for me? By God's name, runt, needed you mention me?"
"Of course! I had to tell him who was my lord. And Brede too."
"Oh, Lord preserve us from the boys! Sigefrith!"
"What?"
"Sigefrith! Sigefrith!"
"Brede thought you wouldn't be happy…" Sigefrith said miserably.
"Sigefrith! Harald Hardrada's son-​​in-​​law! To this day I curse that name when I spit! If not for Hardrada, we might have defeated William at Hastings!"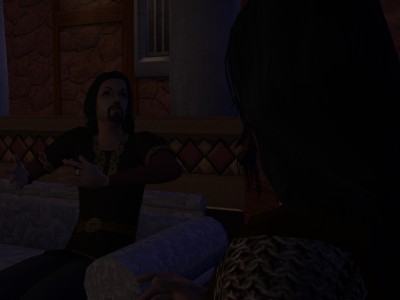 "Well… but that was a long time ago…"
"And, Sigefrith! As you know, it was the Irish who held the Isles for so long and until so recently, namely the Kings of Leinster and Dublin, in particular the father and the brother of Aed's own Irish wife – or had you forgotten?"
"Oh…" It was true, he had forgotten about Aed's wife.
"I hope you had at least the reserve to neglect mentioning where we are situated?"
"Oh, well…"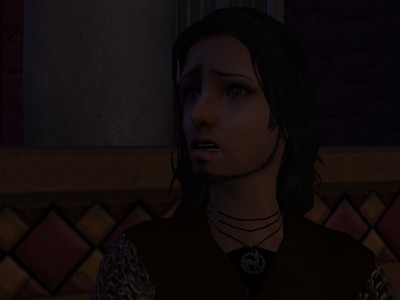 "You told him where to find us?"
"Oh, of course! He wants to meet you."
"Meet me?"
"Well…"
"In battle, do you suppose?"
"Oh, no! He's a good man."
Sigefrith watched his godfather's face closely. He had not yet erupted in anger – that was something. But the deep shadows of the torchlight made him appear uncharacteristically grim. Or perhaps he truly was.
"I wonder how Brede meant to explain this to me," the King muttered to himself.
"You should write to Whitehand, or better still, go see him. It isn't far, and Eirik is there now. I could go with you. And you will see!"
"If there is anyone I need to see right now, it is Aed. Or Tryggvason. He apparently knows how to hate Hardrada's kin and help them at the same time. Fortunately I had already planned to go see Aed, to fetch Malcolm home and to visit Cubby. And you, young man, shall be coming with me."
"Oh! I've always wanted to go!" Sigefrith cried. "And see Malcolm!"
"See Malcolm!" The King rolled his eyes. "You shall not find this trip a lark, Sigefrith. I don't mean it for your amusement. You shall explain to Aed."
"Oh…" Sigefrith flushed. "Shall we bring Brede?"
"It appears that we had better!"