About the author
My name is Jenny. I'm a writer.
One day I would like to have the courage to introduce myself that way at parties or to friendly strangers in elevators, but it's a start if I can say it here.
If your brain is hard-​wired like most people's, the most interesting thing on this page is coming up next: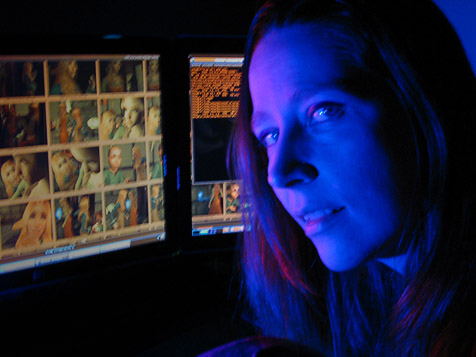 And now that we have those important matters out of the way, I'll tell you a little more about myself.
The standard party, elevator, or blog sidebar introduction would be this: My name is Jenny, and I'm a 32-​year-​old software developer, originally from Ohio, but now living in Victoria, British Columbia, Canada, with a French husband and a standard-​issue ferret.
I am one thesis shy of a master's degree in computer science, and my research areas include compilers, constraint satisfaction problems, and concurrent programming.
My on-​again, off-​again university education stretched over more than 10 years, including several years of chemical engineering, philosophy, and linguistics studies at the University of Akron in Ohio, night classes in computer science at Portland State University, and the conclusion of my bachelor's degree and continuing on into graduate studies at the University of Victoria.
My outside-​of-​university research interests have included Egyptology and languages ancient and modern. I speak fluent French, some German, and know a bit of Gaelic, Dutch, Italian, Arabic, and Hebrew – and yes I can read hieroglyphics. My most recent language studies have been Old English (pre-​Norman) and the proto-​Canaanite language.
I'm also a poet and lover of poetry, and a good cook and lover of good cooking.
Some favorite things:
Favorite books

Que ma joie demeure by Jean Giono, Pride and Prejudice by Jane Austen, the Anne of Green Gables series by L.M. Montgomery

Favorite movie

La Passion de Jeanne d'Arc by Carl Theodor Dreyer (

1928

)

Favorite poets

Gerard Manley Hopkins, William Butler Yeats, Edna St. Vincent Millay, William Carlos Williams, Charles Baudelaire

Favorite music

Corsican polyphony, medieval polyphony (Josquin Desprez, etc.), The Smashing Pumpkins, Odessa Chen, Pink Floyd, French hip-​hop (I don't know why), and whatever last​.fm says I'm listening to

Favorite English words

dim, snack

Favorite random thing

When I'm doing dishes and slam down the bottle of Dawn, and a whole spray of wee bubbles comes spurting out the top and floats gently down over me…
The character I resemble most in the story? Egelric, certainly, with some Alred mixed in. I'm not dashing or gallant like our little Duke, but all his inner anguish is straight out of me, along with this line:
"Poetry is not only something to be written, dear Lili, but to be lived."