Sunday 10 October 2010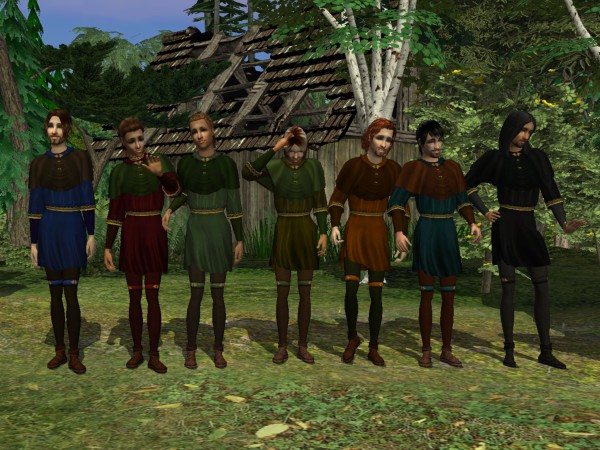 Aligeth's Robin Hood tunic: 14 recolors. (Click picture for high-​res version.)
As I mentioned to a few of you the other day in the chat, I have been looking for a new outfit for Ethelwyn that is more 11th century than his usual clothing, with his tight hose and ultra-​short tunic: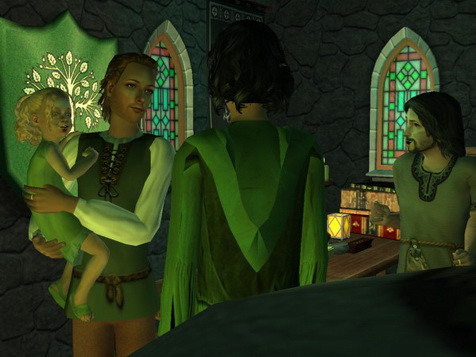 I have a couple of meshes that I frequently use on the likes of stewards, but one of my requirements for Wyn's clothes is that they would be capable of showing off his butt, since this is something at least one Lotherian lady has commented about (and pinched) before.
I loved Aligeth's Medieval and Renaissance Doublets and Hose for Wyn but that's about the same silhouette – definitely not right for my time period.
So I ended up making recolors of a short tunic with cowl, originally from Aligeth's Robin Hood and Friends set but with the gauntlets removed by oph3lia. The tunic is short enough to show off his legs, but not so short as to show off his breeks. And that cowl is mighty nifty.
So I did seven different colors, plus the same colors with a fancier cowl for formal wear. For the formals, I borrowed some textures from Sherabhim's gorgeous new Heart of the Forest gown.
(Click the picture to embiggen.)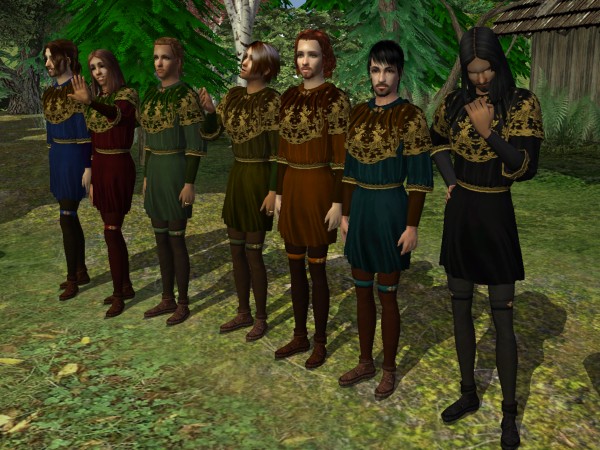 The colors are, left to right:
blue on Wynn
red and green on Oswald
celery on Ethelwyn
green on Anson
brown on Eadred (I wanted to put red and green on him as a joke but his patience with me was already exhausted after two months of wearing Shirtless's kilt)
teal and rust on Alred's demented secretary Addonwy
black on Ralf
I added seams and garters to the hose, because what's sexier than stockings with seams and garters?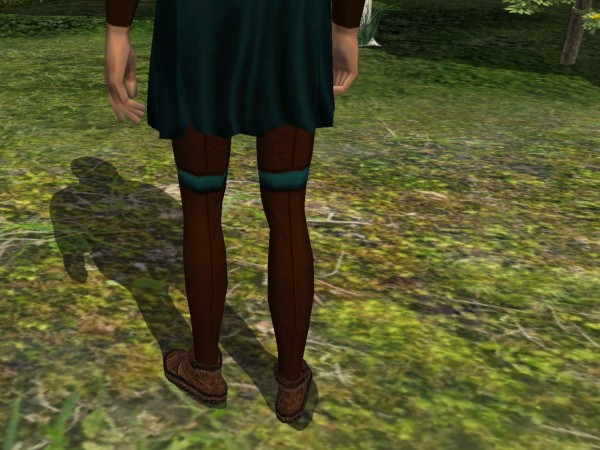 Here's a closeup of the formal cowl:
And here is Wyn proving that a longer tunic can show off a man's butt just fine, provided it's belted:
Trust Wyn to figure these things out and set the trends for Spring/​Summer 1086.
Download
Terms and Conditions: You can do whatever you want with these except upload them to paysites or act like you made the whole thing. It's nice to credit me (as well as Aligeth, oph3lia, and Sherahbim) if you make something with them, but I understand if you don't remember where you find things.