Sunday 14 November 2010
I spent an absurdly unnecessary amount of time building Lord Colban's keep, considering how little we will likely ever see of it. So in order to make it worthwhile I decided to do a proper tour, because I know a lot of you are on the lookout for castle-​building inspiration.
Many of these pictures have a screenshot-​sized version linked to them; if you click on the picture it will open the picture in a 1280 x 1024 size (without annotations).
Basement floor with hall: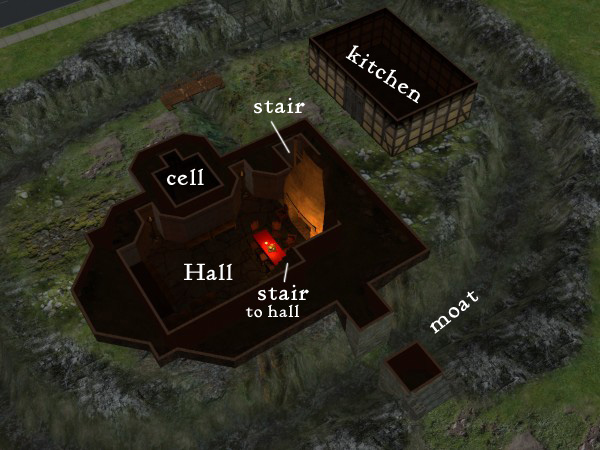 The "cell" can only be reached through a hole in the floor above. I don't know if any prisoners have been kept here in recent memory. Maybe it's used for storage now. Or maybe it's an old well? Or a place to hide from fairies?
Ground floor, open to hall: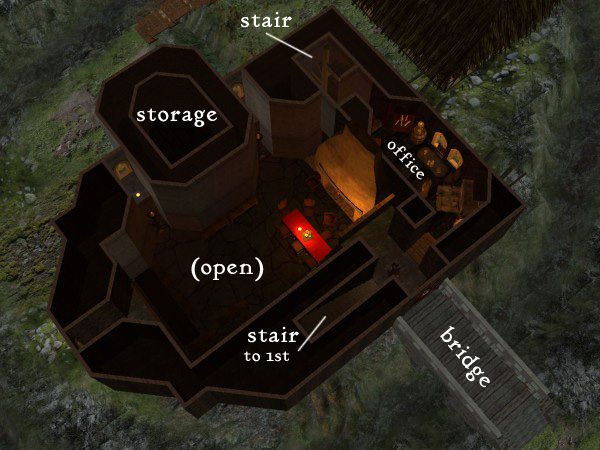 The only way to enter the keep is through the door at the end of the bridge. Hmm… I don't know how they get food from the kitchen to the dining hall. I think I will need to add a door somewhere.

The hall is a little unusual in that it is not exactly 2 stories tall. The lower portion of the hall is a true basement built into the foundation, so it can be less than 1 story high. There's no reason for this – I just thought it would be cool. In fact it's tricky to make it work. If it's not deep enough lights won't even work properly. I got it working OK but I don't know if I will build something like that again.
The storage room in the tower can only be reached by ladder from above. This room is used to store food for the keep in case of siege.
First story: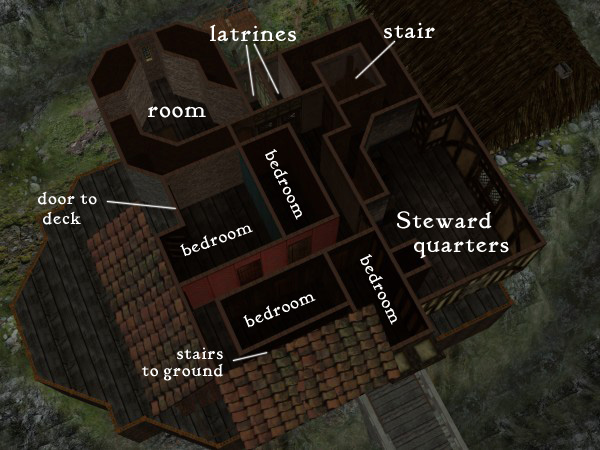 I haven't assigned most of the rooms at this point, so you'll just see "bedroom." Those rooms must belong either to children, to servants, or to guests.
There is also the "room" room, which looks too awkward to use as a bedroom. So I don't know what it's used for. Office? Wardrobe? Storage? Infirmary? I have no idea. There's a trapdoor in the floor which opens to the food storage room below.
There are two latrines on this floor. They discharge into a ditch that flows down into the moat.
Second story:
The Lord's chamber is naturally the best room in the place. It has a covered walkway on two exterior sides. Currently Malcolm's mom has a trunk pushed up in front of the door to the walkway, so I guess she doesn't go out there often.
Magog still has a room in the keep. He used to share it with Gog when they were lads, before Gog got married. Later this was Maire's room, when Gog took pity on her after Malcolm had been gone for months, and he brought her to live with the family. Thus this was where Aengus used to visit her.
Between those two rooms there is a bedroom which I would imagine is where the youngest kids sleep with their nurse, easily accessible by a nursing mother.
The room marked "servants" must be servants' sleeping quarters since I don't know who else would want to live in such an awkward, drafty room that is stationed right on top of the latrines.
There's also a tower bedroom, perfect for a little boy. I don't know, maybe Lulach's? Cubby's? Whoever sleeps here apparently has a good view onto the corner bedroom at Man-Flann's house, since Eithne used to keep one of her curtains drawn on account of peeping eyes in the tower.
Third story:
Nothing this high but the tower. Maybe the other boy, Cubby or Lulach, has this room.
And finally the roof of the tower:
Here's a closeup of the ground floor and hall from a different angle:
A closeup of the first story from a different angle:
A closeup of the second story from a different angle:
A closeup of the third story from a different angle: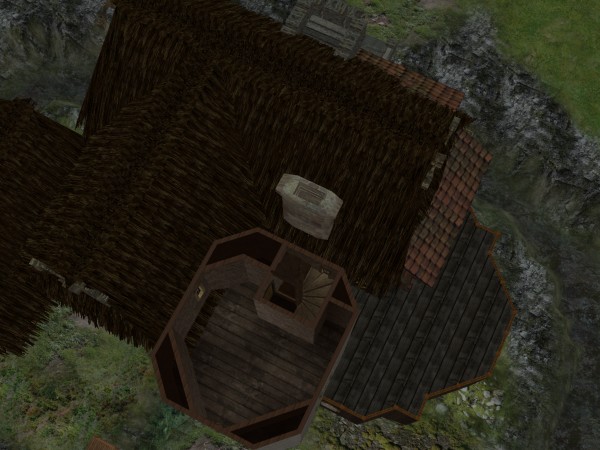 View of the keep from the tower side:
Here's the footbridge behind the keep: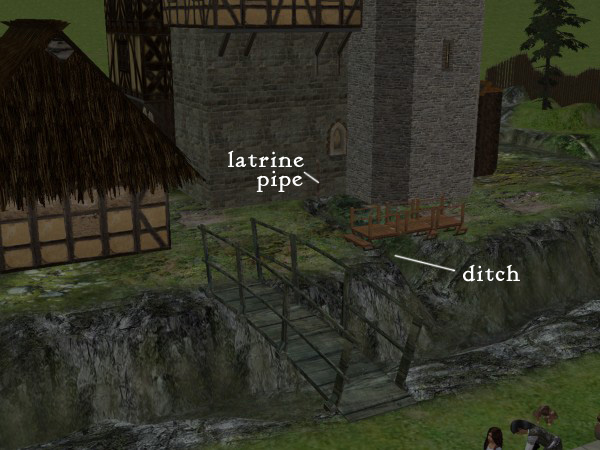 The bridge can be removed if they are under attack, leaving nothing but the stone bridge over the moat in front.
Also, the latrine ditch. It's not often my Sims even have toilets on their lots, so when I put one in I make sure it goes somewhere.
I am assuming the keep gets its water from the stream (unless there is an old well in the tower)—and if so, they must lower their buckets upstream of the ditch.
Another view from the back: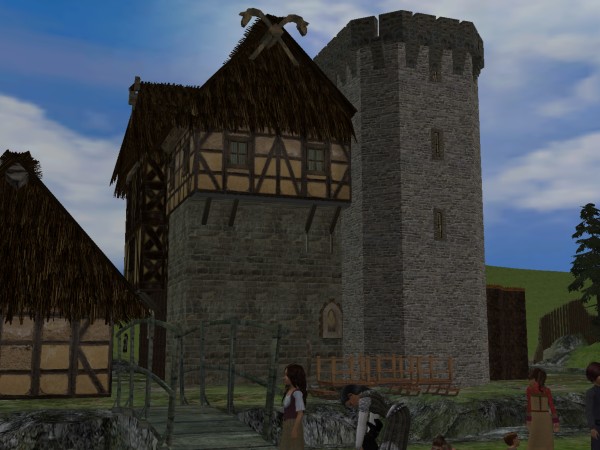 A view from above, showing the place where the stream splits and rejoins to form the moat:
Some views of the front: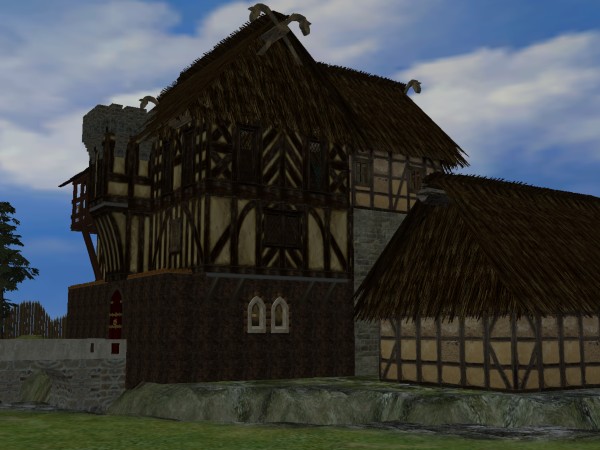 So now that I have this place built, I had to figure out how Aengus used to "climb the wall" to get in to see Maire. Here's my theory:
He must have taken the footbridge from the back, snuck between the kitchen and the keep, and then climbed around the front. There is a narrow ledge in front of the steward's window, so if he could get up there (maybe with a ladder? climbing on a barrel?), and if Maire tied a rope to her bedpost and hung it out her window, he could get from the ledge into her room. I suppose it could be done if a fellow wanted it badly enough.

I wouldn't be at all surprised to learn that Young Magog used to do the same thing, in reverse.
So that's the keep. I haven't done any outbuildings besides the kitchen and one other unidentified building. Young Colban has a small house of his own with Sebdann and their baby. They live right next to the keep, but on the wrong side of the moat. I haven't made a house for them yet.
I will leave you with a picture of Malcolm's mommy, showing the aforementioned trunk pushed in front of the aforementioned door.