Thursday 31 January 2008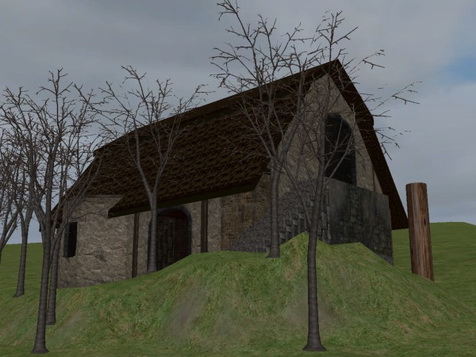 I'm too tired to work on a chapter tonight, so now's a great time to give you a "before" tour of Osh's new house – before Flann gets her decorating hands on it, and Osh starts painting.
Here's the story:
One or both of them seemed so eager to be living anywhere else that any roofed and walled structure of sufficient size would have done.
Alred, therefore, proposed one of the old tithe barns as being a large and sturdy structure of sufficient size. These were mentioned back in 1078, in "Alred has something to say":
"I've watched my people eat all the food they had, and then I watched them eat the oats meant for the beasts, and now I am watching them eat nothing. And meanwhile, every day I ride out past that hideous black tithe barn that is simply groaning with grain, and the greatest insult is that you have men guarding it. Not the abbot, but you have sent men to guard what he has stolen from us."
So here is the "hideous black tithe barn", in its modern-​​day, run-​​down state. (Yes, I forgot it was supposed to be black when I made it. It faded! A lot!)
I believe that Alred has been leaving it empty since 1078 – he can't bear the sight of it, since it represents starving people, and the treachery of the Abbot of Thorhold, and Sigefrith's folly, and Maud's madness.
But it's solidly built, as Osh noted, since it had to protect the grain from hungry peasants and be relatively difficult to burn as well.
Here's a view looking east: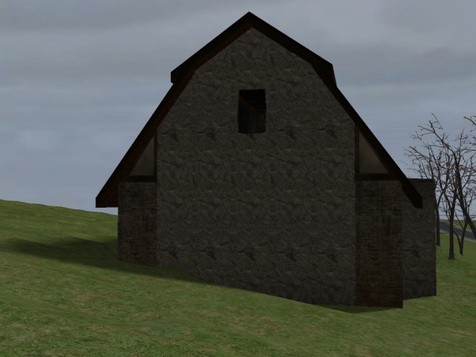 The roof was made using the individualRoofSlopeAngle cheat.
Keep in mind that this is supposed to be in a forest, or at least in a former clearing surrounded by forest, with the small trees beginning to grow back in the clearing since it was abandoned. I only added the trees for the recent chapter where they might be visible from inside.
Here is a view looking west: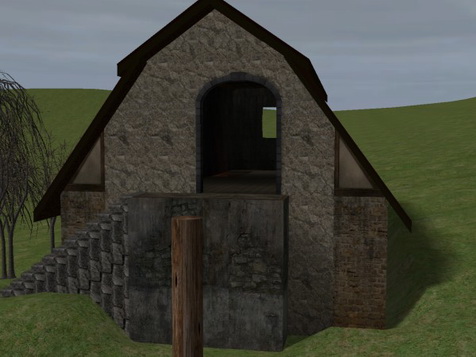 There are old stairs leading up to the loft from the outside so that grain could be easily brought in and out. Maybe they will put a nice window in there where that big door is now. (With glass!
)
Here's the top floor without the roof: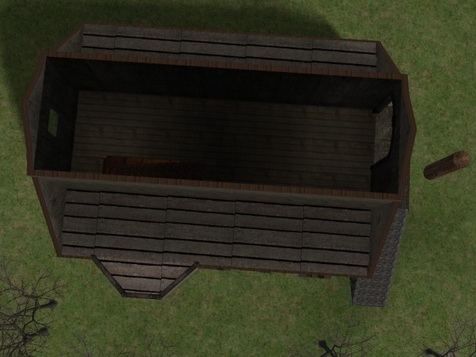 There is a set of stairs on the inside leading up top as well. Flann is going to put her maid and housekeeper/​cook up there.
Here's the ground floor:
The top left, where Osh is standing, will be the bedroom. Top right will be the kitchen. Bottom left will be a very small sitting room. Bottom right will be the eating/​sitting area.
You can witness my continuing obsession with 1-​​square-​​thick columns and pillars. I am still unsatisfied with the cardboard walls of ordinary Sims houses, so I give some heft to the buildings that way. (The ones made of stone, anyway.) From the inside it feels solid to me.
Notice also the beams running in both directions. The ones running left to right are supporting the 2nd story walls. (Yes, I think about these things.) The others are my usual ceiling beams supporting the ceiling and giving some structural support as well.
Here's outside looking in through the front door: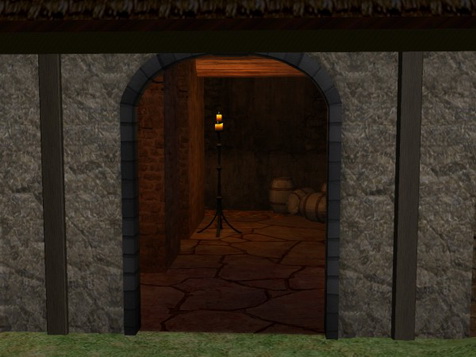 Here's after we step through the front door. You can see the ceiling beam action: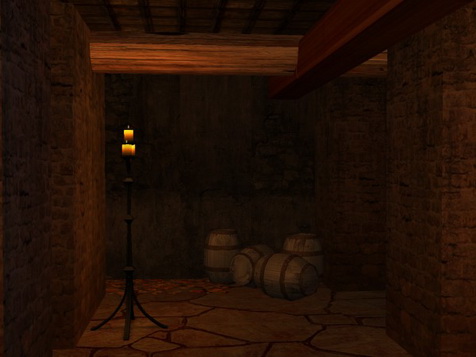 We are standing approximately where Flann wanted to move her kitchen table when she woke Osh that first night. Beyond is where the kitchen will be. The fireplace will be built right where the torchère is now.
Here's a niche between two columns:
We're standing in the same place as the previous picture, but we just turned our heads to the right. I was careful to include quite a few blank expanses of wall like this in a house built for Osh. 
Here's the front sitting area: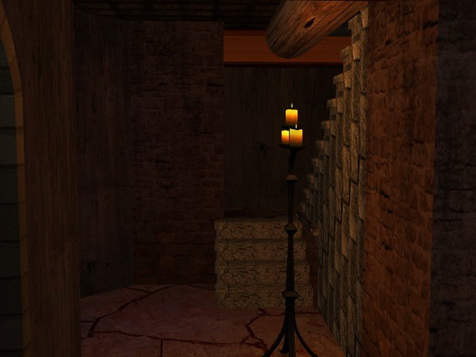 There's just enough room for a chair or small sofa, or maybe a table and desk chair. But I think Flann will like to sit there sometimes since it's the only window on this floor, and it faces south into the sun. (Like Eithne's ideal sitting room.)
Here we are climbing the inside stairs and coming up to the top floor: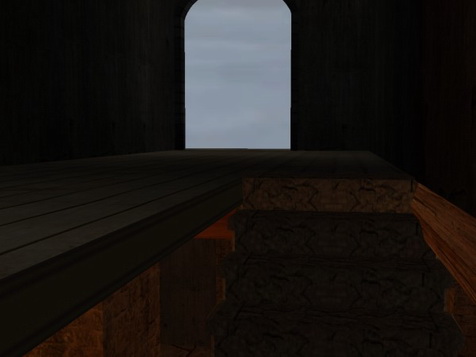 Not much to see up here yet. They need to build some walls and close off that door.
We've already seen Osh's future bedroom, but here he is staring at the spot where his bed will be: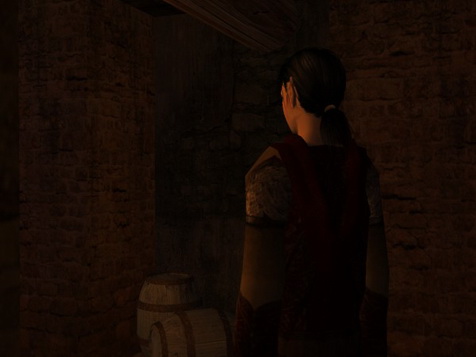 And here we are in the bedroom looking towards the front of the house and its one window:
Osh is planning to build a wall in front of the stairs to close off the bedroom. Will make more paintable surface area, too.
I think this is how the added bedroom walls are going to look:
I had to move the crosswise ceiling beam away from the center of the pillar, as you might see if you compare to the top-​​down shot above. This is because that kind of ceiling beam can't be directly in front of doors or they won't close by themselves. (And since there's no way to click on a door to close it…)
This bedroom is very small, and once I put the bed in, there will only just be enough room to walk around it: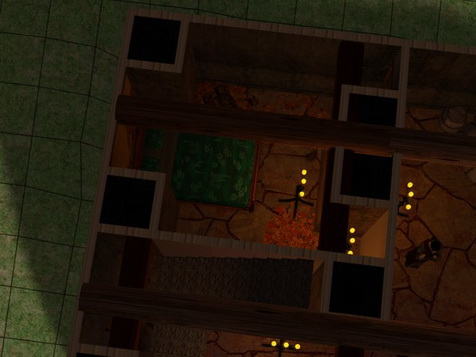 I don't think Osh & Flann would even be able to lie down in it if I were actually playing the game, since the head of the bed will be stuck in a 2-​​square-​​wide niche in the wall. However these days I have no objections to moving a bed so people can lie down in it, then stuffing it back into wherever it is supposed to go. That is really the least of my move_objects on worries.
I still have no idea where I'm going to cram Liadan's cradle though.
More move_objects to get the poor baby in and out.
So, that's the tour. I'm looking forward to them moving in as much as Flann is. I like this virtual redecorating. I have already prepared a collection of new custom walls to use as Osh's paintings.
Sneak preview, since I have no shirtless elves for you: