Sunday 23 October 2011
Sherahbim's "The Lady" gown is one of the best bliauts out there, so I wanted it in lots of medieval colors. There are already other recolors of the original gown, so I made a few edits to the outfit to add variety. I also put it on a different mesh.
First, here are the colors. (Affrais, the young blonde with dangly curls at far left in the first picture, is wearing the fat morph in all pictures. Hetty, the lady with the blue veil, is showing the 2nd trimester baby bump.)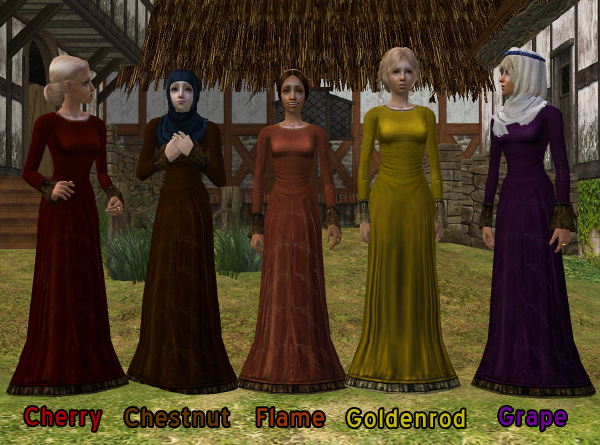 (You can click any image to see a full-​size screenshot.)
Some dresses have a faint pattern on the skirt, like embroidery, or perhaps a pattern embossed into the wet cloth.
The trim on the skirt and sleeves varies in color. Likewise, the trim on the collar and the stitching on the back and sleeves may range from ecru to gold.
Download
The dress appears in Everyday and Formal categories.
About the Mesh
The mesh is the same one used by Cat and Flann's most distinctive gown. This mesh is one that many of you will not have, if my previous efforts to distribute recolors are any indication. It appears to be a very old mesh from Parsimonious, but I don't know what outfit it came with originally, since I didn't get it from there.
I like this mesh because it is a little larger in the bust and derriere. In the picture below, Lady Eadgith is wearing a dress with the usual bust for medieval dress meshes. Eadie is wearing the mesh I used for my recolors.
And here is another shot of the mesh in "petite" and "plus size":
I didn't take a picture of the pregnant morph with my gown, but the mesh does have one:
Terms and Conditions
As usual, I didn't do much besides copy, paste, and move sliders around, so all credit goes to the original artist, Sherahbim. (The new trim is swiped from her "Royal" gown, from the same set as "The Lady," so it's really a Sherahbim mashup.)
You may do anything you want with these dresses, aside from posting them to pay sites or claiming them as your own work. Credit would be nice but isn't required.